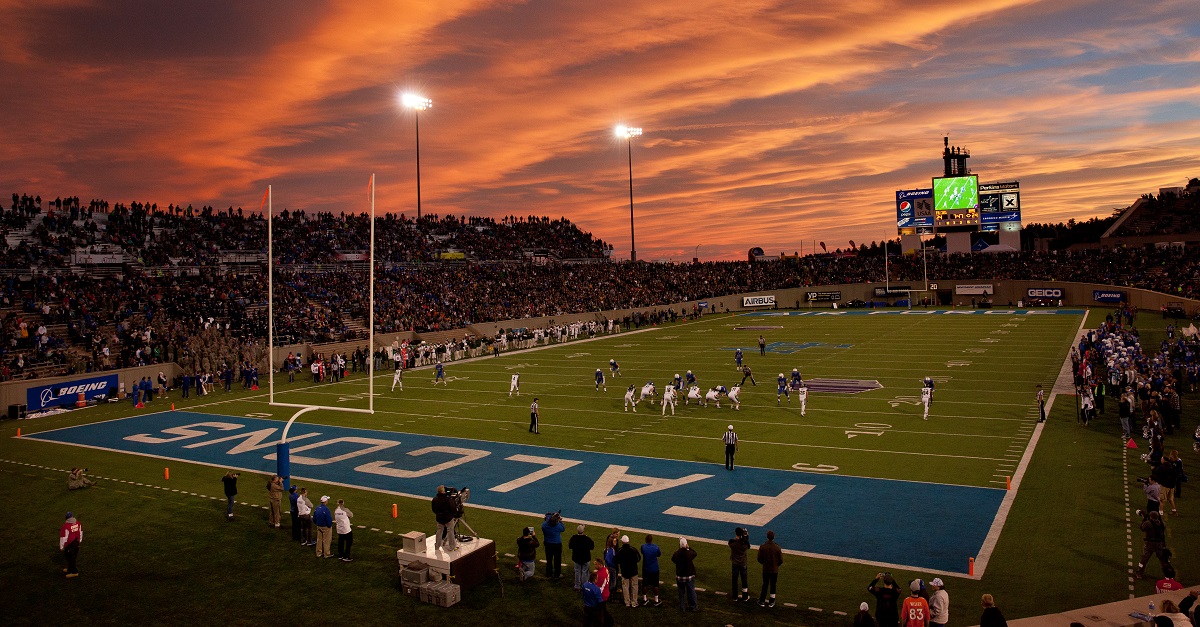 Justin Edmonds/Getty Images
COLORADO SPRINGS, CO - NOVEMBER 28: The sun sets over the stadium as the Colorado State Rams drive against the Air Force Falcons at Falcon Stadium on November 28, 2014 in Colorado Springs, Colorado. Air Force defeated Colorado State 27-24. (Photo by Justin Edmonds/Getty Images)
Former Air Force quarterback and master of the triple option Dee Dowis died in a fatal car crash Monday morning. The Gwinnett County Police department confirmed the death ofthe 48-year old Dowis with The Gazette Tuesday morning. The accident occurred on Interstate 85 in north Gwinnett County at about 5 a.m.
His former coach Fisher DeBerry was broken up about the loss of Dowis who really turned himself into one of the better players in the Western Athletic Conference and the country.
"I don't have adequate words to describe what a personal loss this is for me. It's a sad day for Falcon football. I'm sure so many people who enjoyed watching him play feel as empty as I do today."
Dowis set foot on campus as a 5'10", 150-pound lightly recruited quarterback and left as a Heisman finalist in senior season of 1989. He finished sixth in the voting for the award after winning WAC Offensive Player of the Year award and setting the NCAA record for most rushing touchdowns by a QB in a single game with six.
When he left school he was the NCAA's record holder for career rushing yards by a quarterback with 3,612 until Antwaan Randle-El broke that record in 2001.
Dowis, who lived in South Carolina and worked as a pharmaceutical representative for Pfizer, is survived by his wife, Tracie, daughter Maddie, who attends college in South Carolina, and son Grant, who is in high school.
[h/t Gazette.com]