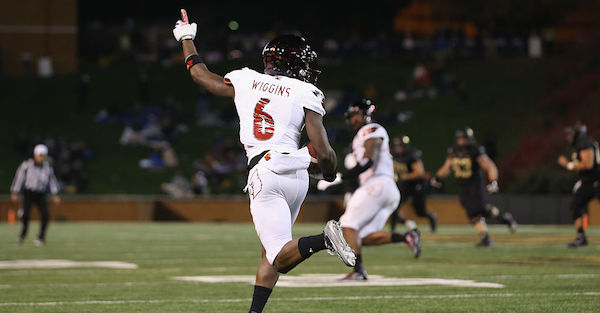 Streeter Lecka/Getty Images
WINSTON SALEM, NC - OCTOBER 30: Shaq Wiggins #6 of the Louisville Cardinals reacts after an interception against the Wake Forest Demon Deacons during their game at BB&T Field on October 30, 2015 in Winston Salem, North Carolina. (Photo by Streeter Lecka/Getty Images)
Former Louisville and Georgia cornerback Shaq Wiggins could find his way back into the SEC next season.
Wiggins, who played the last two seasons at Louisville under Bobby Petrino, visited Tennessee last weekend according to GoVols247.
Related: Bobby Petrino is reportedly keeping a Louisville DB from transferring to five other programs
Wiggins attended Tennessee's second spring scrimmage, and it was his first visit since announcing he would leave Louisville as a graduate transfer.
Tennessee, South Carolina and Mississippi State are among the teams Wiggins is interested in transferring to next season. Petrino initially blocked Wiggins from transferring to Mississippi State, Kentucky, Purdue, Notre Dame and Western Kentucky, but Wiggins appealed the limitations and can now transfer to Mississippi State if he chooses.
Wiggins played his freshman season at Georgia, and he recorded two interceptions for the Bulldogs in 2013. However, when defensive coordinator Todd Grantham took the same position at Louisville in 2014, Wiggins transferred and followed him there. He sat out the 2014 season, and he played in 2015 and 2016, where he recorded two more interceptions.
After some injuries last season at Louisville, Wiggins decided to transfer again. He will be eligible immediately because he is a graduate transfer. Though Tennessee was his first visit, Mississippi State is the favorite to sign him due to Grantham leaving Louisville for Starkville after the 2016 season. Former Louisville cornerbacks coach Terrell Buckley is also on the Mississippi State staff.
(h/t 247Sports)