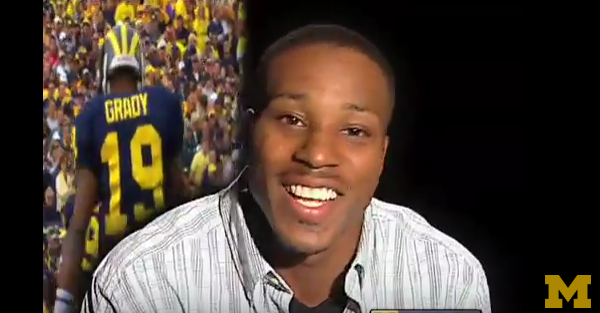 Michigan Athletics via Youtube
Kelvin Grady, a two-sport athlete at the University of Michigan, faces three charges ? including a felony ? after being arrested on a drug charge.
WZZM-TV, quoting the Kent (Mi.) County Prosecutors Office, said Grady faces a felony charge of conspiracy to deliver manufacture marijuana and two misdemeanors ? maintaining a drug house and possession of marijuana. The station said that as of Friday, Grady was still in jail.
The television station reported that, during a traffic stop, police said they found 13 pounds of marijuana in a car driven by Marquis Dante Turley, and that Grady was a passenger. Turley is out of jail after posting a $100,000 bond after being charged with deliver/manufacture of between 5 and 45 kilograms of marijuana, WZZM reported.
If convicted, both men face up to seven years in prison.
Grady, now 27, was a three-year (2009-2011) letter winner in football and appeared in all 13 games his last two seasons as a kick returner, running back and receiver. As a freshman, the 5-foot-11, 170 pound Grady started 25 of 32 games for the Michigan basketball team, and as a sophomore, he started 8 or 32 games. He averaged 4,7 ppg and 2.2 assists during that time.
Since he left Michigan, he played semi-pro basketball for the Grand Rapids Cyclones and coached two high school girls basketball teams.
The Michigan Football team once featured Grady it in ?Take Blue? segment