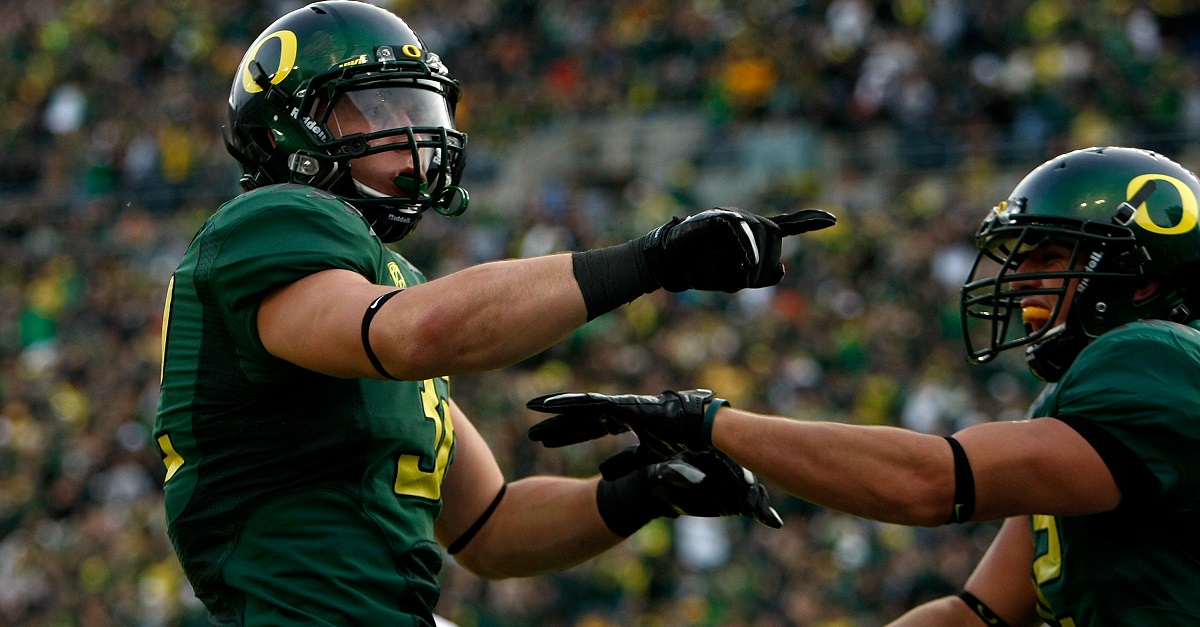 Jonathan Ferrey/Getty Images
EUGENE, OR - NOVEMBER 26: Colt Lyerla #32 of the Oregon Ducks celebrates a touchdown against the Oregon State Beavers during the 115th Civil War on November 26, 2011 at the Autzen Stadium in Eugene, Oregon. (Photo by Jonathan Ferrey/Getty Images)
According to the Associated Press, former Oregon tight end Colt Lyerla escaped from an Oregon corrections facilty near Portland, where he was serving a six-month sentence for forgery.
Lyerla was later found having overdosed on an unnamed opioid, from which he had to be revived using CPR and naloxone. Lyerla was later taken to a local hospital.
After leaving Oregon following the 2013 season, the 6-foot-5, 250-pound Lyerla has been in and out of trouble with the law. Per the AP, Lyerla has been arrested separate times for cocaine and heroin possesion. Lyerla was sentenced last month after pleading guilty to forgery charges, and he had been staying in a minimum-security corrections facility before his escape on Thursday.
After scoring 13 touchdowns in his Oregon career, Lyerla was not selected in the 2014 NFL Draft. He was later signed by the Green Bay Packers, but was waived following an injury.