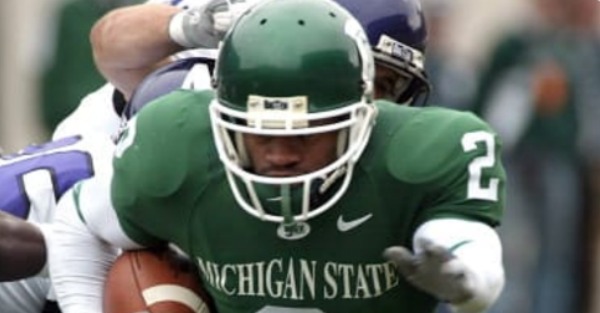 Spartan Fans via Twitter
A former Michigan State football player has been arrested after cops say he was busted trying to sell heroine.
Diego Oquendo, 32, was arrested after police say he tried to sell heroine to an undercover officer, according to a report in the New York Daily News.
Oquendo was busted about three miles from Tottenville High School, where he served as an assistant football coach. The school district said he was fired shortly after the arrest, the Daily News reported. Two other men were also arrested.
Oquendo's lawyer told the newspaper his client is innocent. "I think they?re going to have very strong problems with this case, end of story,? the attorney, William Leykam, said. Oquendo is being held on $10,000 bond, the Daily News reported.
Oquendo was a star athlete in high school and played offense and defense, according to his Michigan State bio. As a wide receiver, he helped Tottenville to 12-0 record in 2003. He had 12 catches for 287 yards and scored five touchdowns in his senior year.
After high school, Oquendo originally signed with Syracuse University but flipped to Michigan State. As freshman, he played in 11 games on special teams in 2005, then saw action in three games as a sophomore. His bio says he was supposed to make the transition from wide receiver to cornerback in a backup role in 2007.