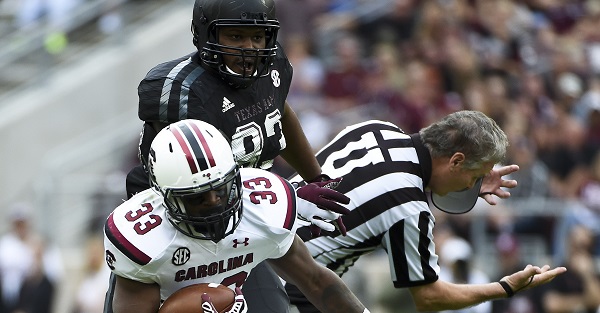 Christian Smith/Getty Images
COLLEGE STATION, TX - OCTOBER 31: David Williams #33 of the South Carolina Gamecocks scampers past Alonzo Williams #83 of the Texas A&M Aggies knocking down a referee in the first quarter of a NCAA football game at Kyle Field on October 31, 2015 in College Station, Texas. (Photo by Eric Christian Smith/Getty Images)
David Williams was not a dominant player in the SEC, but he was a starting-quality one for the South Carolina Gamecocks at the running back position. The 6-foot-1, 220-pound ball-carrier from Philadelphia amassed nearly 800 yards and five touchdowns during his three-year career in Columbia and, when he announced that he was transferring out of the program, there was plenty of intrigue as to his next stop.
Shortly thereafter, Williams announced that he would be headed to continue his career as a graduate transfer at UConn.
However, Otis Kirk of 247Sports brings word that Williams reportedly took a visit to Arkansas over the weekend and that could be a very interesting development. The Razorbacks famously lost Rawleigh Williams to an injury-related retirement and that absence leaves a considerable hole for Bret Bielema and company at running back.
Though Williams is not necessarily an "impact" player at the SEC level, having a proven SEC-caliber back to go to is never a bad thing and he would be eligible immediately after graduating from South Carolina. Just how much fire there is with the smoke of this report remains to be seen but, at this point, we probably should not necessarily assume that David Williams will be playing at UConn in 2017 after all.