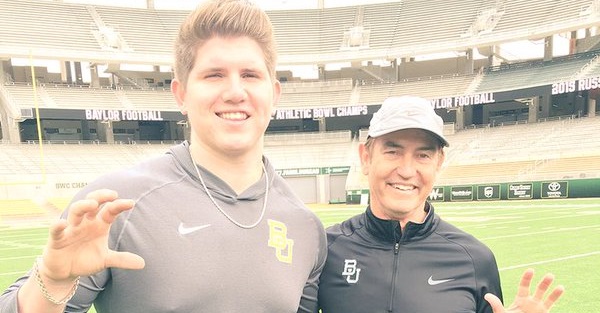 After officially being released from his signed Baylor Letter of Intent on Thursday, it didn't take long for this recruit to find a new school. On Saturday, four-star offensive lineman JP Urquidez (6-foot-6, 300 pounds, Copperas Cove, TX) announced that he would be joining the Texas Longhorns.
Urquidez isn't the only Baylor signee heading to Austin from Waco; three-star athlete Donovan Duvernay will also be joining him with the Longhorns. The additions balloon Texas's 2016 recruiting class up to 27 members.
Both players should be eligible to play immediately as a condition of their release from their LOI.
RELATED: Running back with blistering 4.3 40 speed set to visit this SEC school after decommitting from Baylor
Texas head coach Charlie Strong has to be extremely happy with what he's put together for this recruiting class. This class was ranked in the mid-30s of the recruiting rankings the day before National Signing Day, but a huge day on February 3 allowed them to jump over 20 spots in the rankings. With these two additions, Texas is up to No. 8 over at 247Sports, which definitely gives the unfairly-maligned head coach something to work with going forward.