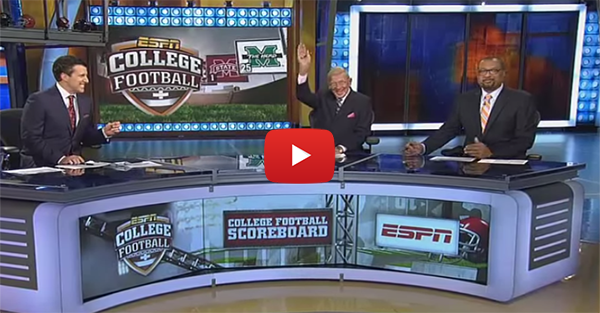 Lou Holtz isn't a college football analyst on ESPN this season, and for that, we are very sad. Yeah, the GameDay hosts are nice and polished and all of that TV jazz, but  with Holtz, there were always goofy moments that made us laugh … like this one.
Rece Davis was trying to read the Top Performers of the day. While he was doing that, Holtz just couldn't hold back a sneeze and did so extremely loudly into the microphone. It was hilarious.
Davis is a true pro, and rolls with it saying "that's nothing to sneeze at," prompting laughter from Holtz and Mark May (who isn't on GameDay anymore, either). There was never a dull moment when Lou Holtz was around, and without him on the set, GameDay just isn't the same.
Because, who else can create his own language right on the air?
Or make something sound like a lot of nothing?
Anyone starting a petition to bring him back?