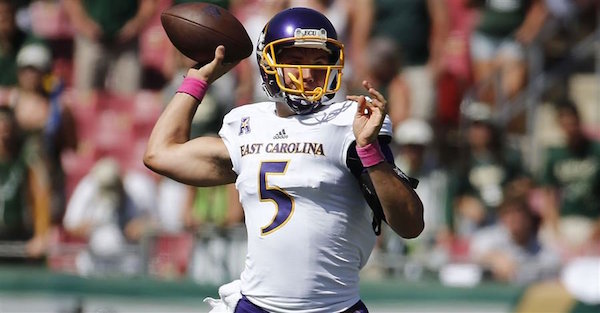 @HTC247/Twitter
@HTC247/Twitter
ECU starting senior quarterback Gardner Minshew has withdrawn from the school in order to return to his home state of Mississippi due to a family matter, head coach Scottie Montgomery revealed on Tuesday via WRAL Sports.
?Our full support is for Gardner and his family during this time,? Montgomery said. ?He's been an asset and leader in our program, but our first priority is to be there for him today, tomorrow and the days afterward. The door will certainly remain open for his return to ECU, and when it's appropriate for us to talk about football again, we will do so.?
Minshew earned a bachelor's degree during the fall semester, but had a remaining season of eligibility and was expected to be the Pirates' starter entering spring drills.
The senior made five starts and appeared in 10 games, which included leading ECU in completions (174), attempts (304), passing yards (2,140) and passing touchdowns in 2017. He also set an AAC single-game record by recording 463 yards on 52-of-68 passing during a Nov. 4 matchup at Houston.
Minshew transfered to ECU in 2016 after leading Northwest Mississippi Community College to the 2015 NJCAA National Championship as a true freshman.