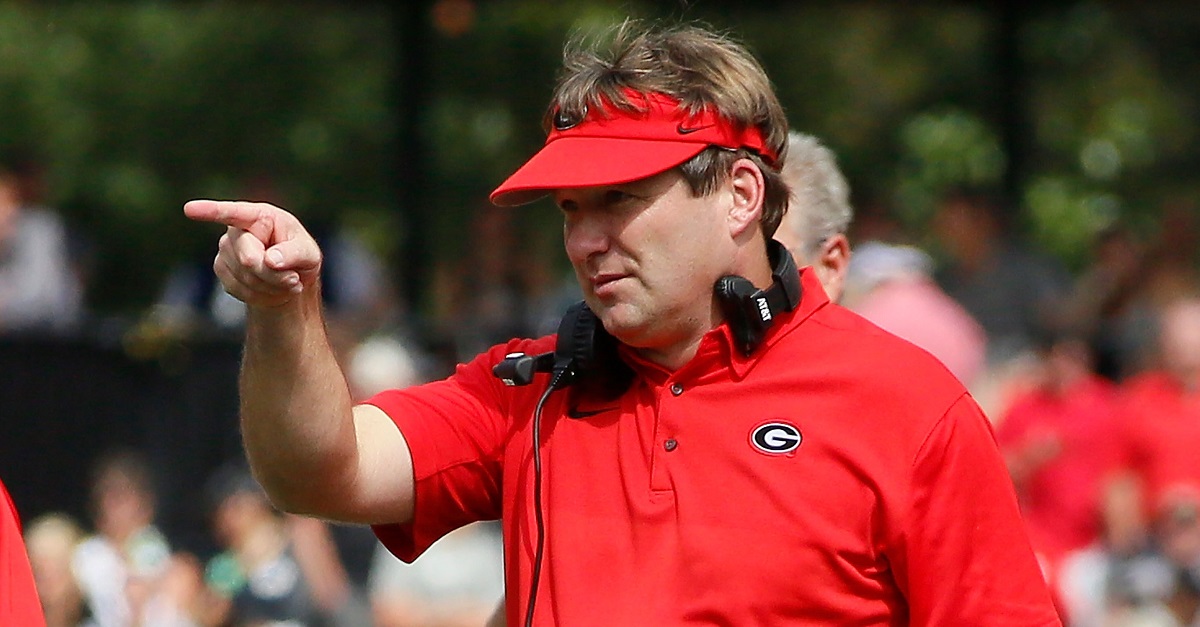 Frederick Breedon/Getty Images
NASHVILLE, TN - OCTOBER 07: Head coach Kirby Smart of the Georgia Bulldogs points to a player during the first half of a game against the Vanderbilt Commodores at Vanderbilt Stadium on October 7, 2017 in Nashville, Tennessee. (Photo by Frederick Breedon/Getty Images)
The first day of the early signing period is over, and several teams can already claim the day as a success.
One team clearly stuck out though, as Georgia is the new No. 1 in the recruiting rankings at both ESPN and 247Sports. Georgia entered the day in the Top 5 of both rankings, but adding commitments from five-stars like Jamaree Salyer, Cade Mays, and Brenton Cox really pushed the Bulldogs over the top. Georgia now has six five stars signed to their 2018 class, clearly a good sign for head coach Kirby Smart and his staff as they look to build on their College Football Playoff appearance this season.
Here's where ESPN's rankings stand as of press time:
Two other big winners of the early signing period: Clemson and Alabama. (shocker, right?) Clemson added the commits of five-star Jackson Carman (No. 9) and KJ Henry (No. 8) on Wednesday, and the Tigers now have four of the top nine players of the 2018 class locked down with quarterback Trevor Lawrence (No. 1) and defensive end Xavier Thomas (No. 3) already on board.
Alabama's big win of the day came in the form of five-star defensive end Eyabi Anoma. Anoma has only been playing football for two years, but his incredible athlecism and size (6-foot-5, 230 pounds) have soared him up the recruiting rankings over the past few months. He is currently Alabama's highest-rated recruit (No. 7) according to the 247Sports Composite.
For those that may not have won on Wednesday, there is no need to panic quite yet; there are still two days left in the early signing period, and there is still the annual National Signing Day in February. As of press time, there are still seven five-star recruits and 15 of the Top 50 overall recruits that are currently uncommitted.