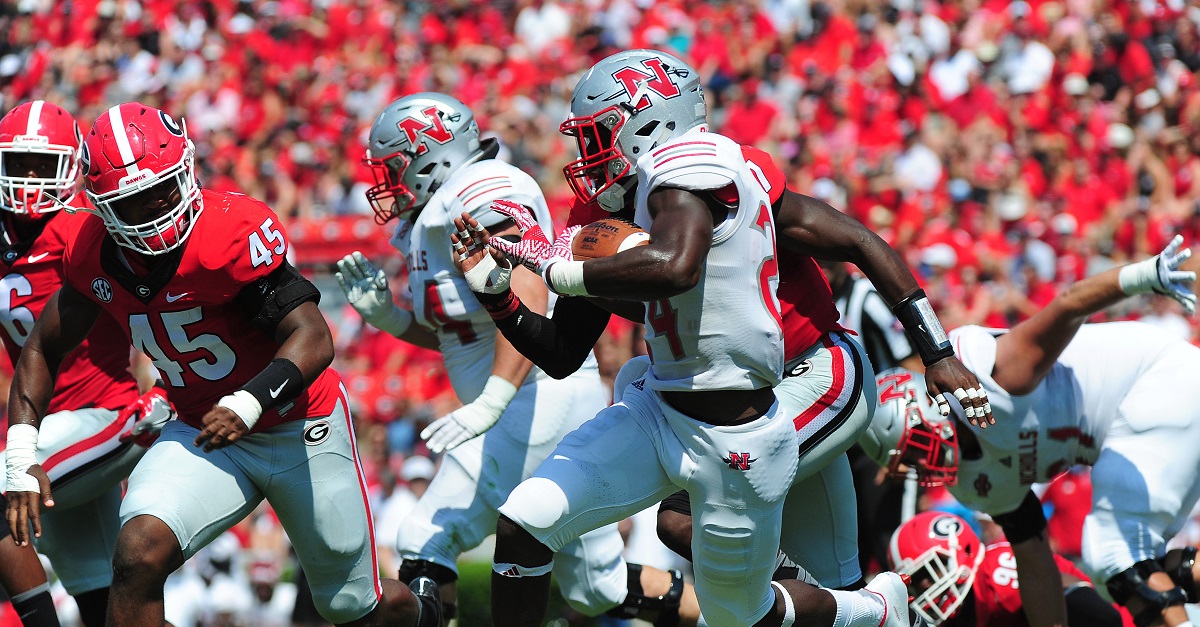 Scott Cunningham/Getty Images
ATHENS, GA - SEPTEMBER 10: C. J. Okpalobi #24 of the Nicholls Colonels carries the ball against the Georgia Bulldogs at Sanford Stadium on September 10, 2016 in Athens, Georgia. (Photo by Scott Cunningham/Getty Images)
Sports books usually don't take action on games between FBS and FCS teams, but the books that did have Georgia vs. Nicholls State had a 55-point spread.
And Georgia almost lost, barely edging the FCS Colonels 26-24.
The Dawgs looked lackluster in the first half, only taking a 10-7 lead over Nicholls into halftime. Despite Georgia being one of the most loaded teams in college football in terms of raw talent and size, it was Nicholls that was often controlling the line-of-scrimmage throughout the game. Star Georgia running back Nick Chubb only had 80 rushing yards on 20 carries. Of those rushing yards against Nicholls, many came on the last drive that helped run out the clock.
That's a big difference from Chubb's 222 yards last week against North Carolina.
Nicholls actually had a real shot at winning this game. Many thought this was over after Georgia took a 26-14 lead, but Nicholls added a field goal, and then a touchdown after a botched punt in the fourth quarter.
RELATED: Mississippi State just lost to a school that's only had football for 7 years
It was Jacob Eason's first career start, but when Georgia was against the wall in the fourth, they turned to Greyson Lambert at quarterback. Lambert converted a key third down before Chubb was able to run out the clock.
Georgia usually has great line play on both sides of the ball, so to see them struggle with a team like Nicholls would indicate some effort problems at first glance. Head coach Kirby Smart has a lot of coaching to do between now and next week at Missouri.