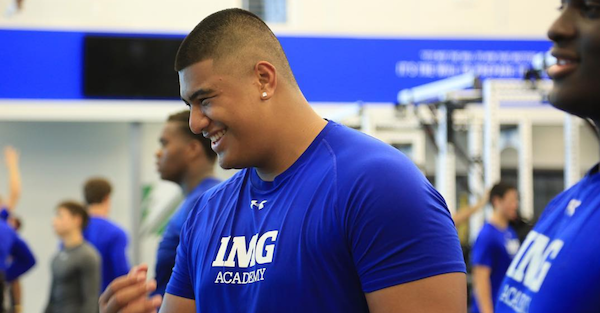 Instagram/Screenshot
One of the biggest and most sought after recruits for the Class of 2018 has never even played a down of football.
Related: Rivals 4-star recruit Bruce Judson decommits with reports noting he's leaning toward commitment 
17-year-old Daniel Faalele is 6'9, 394 pounds from Melbourne, Australia, and despite never playing football, he has already received offers from Michigan, Georgia, LSU, Arkansas, Miami and many others. He is currently enrolled at IMG Academy in Florida, and he is expected to play next season, according to ESPN.
Faalele was discovered by a recruiter from the University of Hawaii while he was at a gym in Melbourne, and he had never even watched football prior to meeting the recruiter. He isn't ranked yet by 247Sports, but IMG coaches have raved about his size, strength and mobility.
"He's just a freak of nature, obviously," IMG strength coach David Ballou said. "As thick as he is and as big as he is, you wouldn't expect him to move like he does. He's a powerful dude, but he's had limited strength background before coming here. From our perspective, his training age is 1. He's an untapped gem."
Matt Rhea, the IMG head of sport science, said Faalele might even gain as much as 40 pounds of muscle.
"I wouldn't be a bit surprised if he gains 40 pounds of muscle," Rhea said. "Even as good as he looks and moves now, there's still a transformation that is coming. He may gain 40 pounds of muscle but lose 80 pounds of fat. That kid at 350, with that muscle mass, is going to be impressive."
Faalele also has a younger brother who is projected to be even bigger than he is now.
Even though Faalele hasn't played football yet, it will be intriguing to see if he garners more attention and more offers from major programs over the next year.
(h/t College Football Talk)