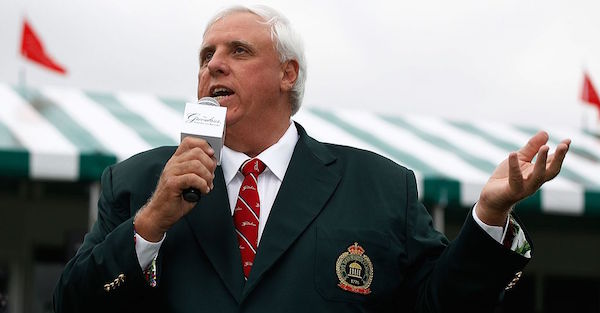 Scott Halleran/Getty Images
WHITE SULPHUR SPRINGS, WV - AUGUST 01: Jim Justice, owner of the Greenbrier Resort, speaks to the gallery after Stuart Appleby's victory at the Greenbrier Classic on August 1, 2010 in White Sulphur Springs, West Virginia. (Photo by Scott Halleran/Getty Images)
West Virginia Governor Jim Justice wants to see a change in the Marshall football program. According to the Charleston Gazette-Mail, Gov. Justice has recently pressured those in charge at Marshall University to replace current head coach Doc Holliday with former head coach Bob Pruett, according to an anonymous source.
Related: Iconic college football coach who helped develop Roger Staubach has tragically passed away
Justice graduated from Marshall and was a member of the golf team, and he is friends with Pruett, who coached the Thundering Herd from 1996 to 2004. Pruett was 94-23 as Marshall's head coach, including two perfect seasons.
Current coach Doc Holliday took over in 2010, and he guided Marshall to a 13-1 season in 2014. However, after a 10-3 campaign in 2015, the Herd slipped to 3-9 in 2016.
Pruett appeared in a commercial for Justice during Justice's campaign in 2016. Gov. Justice met with five members of the school board on March 28 to discuss how he wants them to fire Holliday and athletic director Mike Hamrick, who hired Holliday.
None of the board members would comment on the meeting, and the governor's chief of staff insisted the meeting wasn't to fire Holliday and hire Pruett.
?It was not a meeting to say, ?Fire the coach and hire Pruett,?? chief of staff Nick Casey said in a statement Wednesday. ?It was a meeting to say, ?Ratchet up your game and do something to get yourself back to greatness.?"
Holliday hasn't had the success of Pruett, but he still won 23 games in a two year span. It's peculiar to see a governor attempting to force a coach out and replace him with a friend?even if the governor is an alum with a substantial amount of money.
Either way, Doc Holliday is probably feeling a bit nervous after hearing about this meeting.
(h/t Charleston Gazette-Mail)