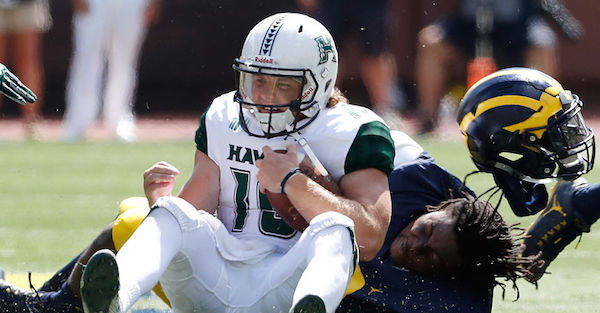 Gregory Shamus/Getty Images
ANN ARBOR, MI - SEPTEMBER 03: Rashan Gary #3 of the Michigan Wolverines loses his helmet while tackling Dru Brown #19 of the Hawaii Warriors during the third quarter on September 3, 2016 at Michigan Stadium in Ann Arbor, Michigan. Michigan won the game 63-3. (Photo by Gregory Shamus/Getty Images)
The Hawaii Rainbow Warriors have reportedly offered a fifth grade quarterback a scholarship.
You read that right. Titan Lacaden, a Hawaii native, is a quarterback and free safety for his youth team the Hawaii All Black Crusaders.
Lacaden's older brother, a linebacker at the University of Nevada, confirmed that his little brother had indeed received an offer from Nick Rolovich's team, even though he hasn't even gotten to middle school yet.
This is certainly interesting. Middle-schoolers have started getting more and more offers in recent years, but offering a scholarship to a fifth-grader is unbelievable. It should be fascinating to see if the offer is still there for Lacaden when he's ready to make a commitment in 2024.
[h/t The Spun]