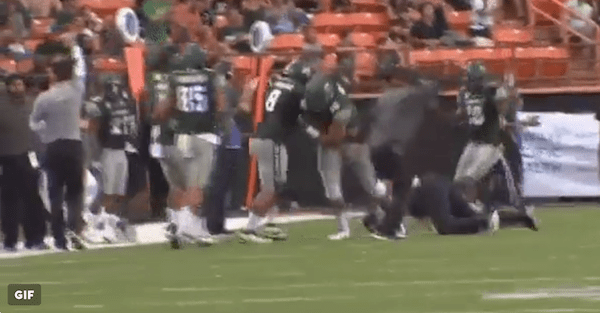 @sportingnews/Twitter
Hawaii won its home opener 41-18 over Western Carolina, and the coaches and players were understandably excited after the 2-0 start.
The Warriors blocked a kick during the game, and linebackers coach Sean Duggan was so excited he decided to jump up and celebrate with one his players. That celebration didn't last long as Duggan hit the ground and dislocated his elbow and fractured his wrist.
Head coach Nick Rolovich joked about the incident via Hawaii News Now, but it doesn't sound like Duggan will be attempting that celebration anymore.
"I've never seen anything like it," Rolovich said. "You advise against chest-bumping a six-foot-seven, 300lb. Tongan. That's just – as a new haole guy on the island, that's just not something you should make a habit."
Duggan will travel with the team this weekend as they take on UCLA, but he'll probably settle for a simple fist bump next time.
(h/t The Big Lead)