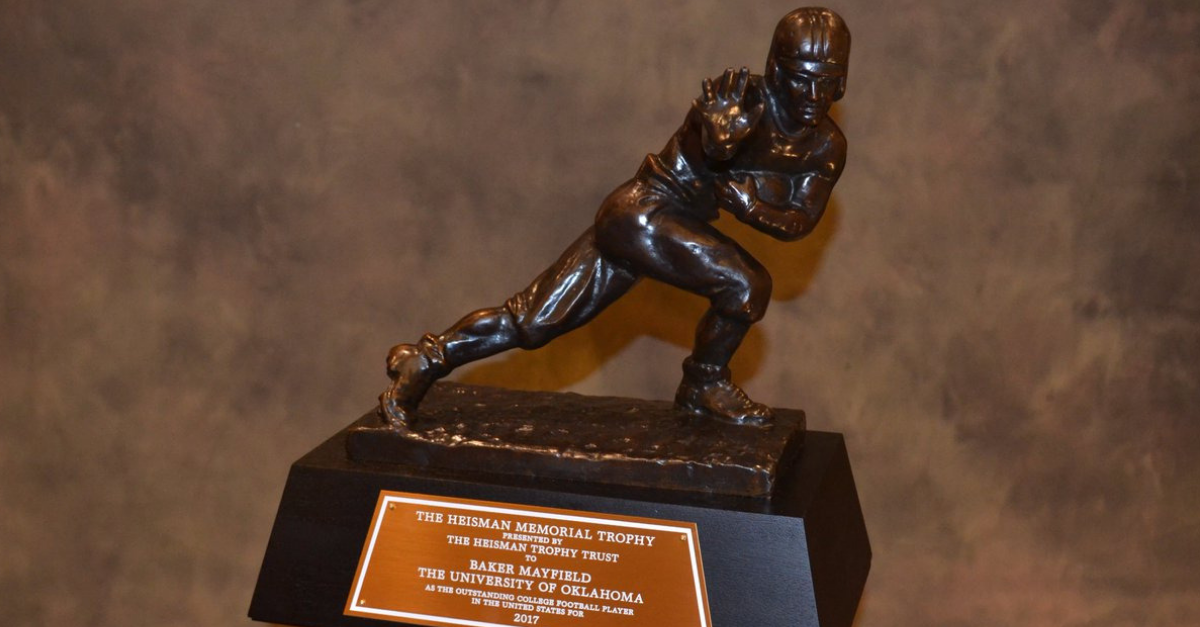 Twitter: @HeismanTrophy
In case you didn't know, or have been living in a cave your entire life, the Heisman Trophy is college football's highest honor. It is awarded to the best player at the end of each season, and it has now come to everyone's attention that you absolutely need permission to use that name.
The Heisman Trophy Trust has filed a lawsuit against three individuals — Chase Leavitt, Joseph Middleton and Kimball Dean Parker — for their HeismanWatch.com website and other products and properties because it is an unauthorized use of the Heisman copyright.
RELATED: 50 Years Ago, O.J. Simpson Completely Dominated College Football
To spare everyone reading the 20-page lawsuit document, know this: The Heisman Trust is suing those three men from Salt Lake City, Utah for trademark infringement, traders dilution, cyber-squatting and unfair competition.
Writing about the Heisman Trophy is cool. It doesn't break any rules or laws. But when you have a website domain name, which matches ESPN's coverage and something the Worldwide Leader in Sports supposedly pays licensing fees for to the Heisman Trophy Trust, well, this happens.
The home of Heisman Watch: Home of the Heisman Calculator is a some hot water right now with a website, podcast, and social media accounts all being claimed to violate the Heisman copyright in some way, shape, or form.
This is as hard a stiff-arm as the trophy itself and because the trust only license their trademark to specific third parties such as ESPN, Nissan and Wendy's, this is an issue.
The document states: "The Heisman Trophy® award is one of the most distinguished, prestigious, and recognized awards in all of sports, and perhaps the most famous of all individual awards in football."
Nobody is going to argue that. The award is legendary with a list of incredible Heisman Trophy winners and there's no doubt the trust spends a lot of money — over $650,000 annually, to be exact — to hype this up with advertisements of their own.
There is still a lot of time to figure out who will win the 2018 Heisman Trophy in New York City this December and it's likely going to be a lot longer before this lawsuit in U.S. District Court gets settled.