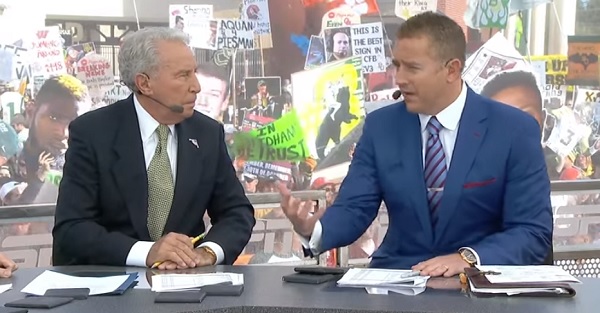 YouTube/Screenshot
With the season officially underway, everyone is getting their Playoff picks in before the opening weekend of college football is over.
That includes College GameDay stalwarts Kirk Herbstreit and Lee Corso. The two confirmed their picks on Thursday for ESPN, and here is who the two have making the Playoffs and winning the national championship.
Herbstreit
Playoff: Alabama, TCU, Clemson, Ohio State
Title game: Clemson over Alabama
Corso
Playoff: Florida State, Michigan, Oklahoma, LSU
Title game: LSU over Michigan
Those are some interesting picks to say the least. LSU over Michigan? That's a bold move, Coach. Herbstreit's picks have quite a bit of chalk to them, with TCU being the only real surprise. However, Corso spurning Clemson and Alabama from the Playoff is a pick that not a lot of people have.