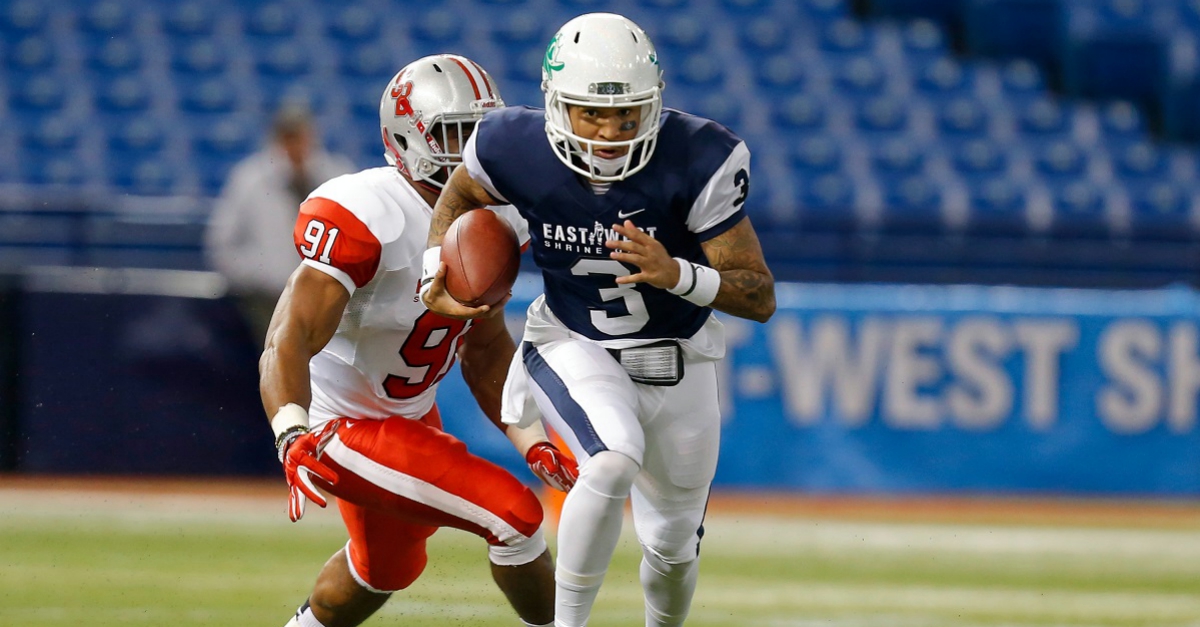 ST. PETERSBURG, FL - JANUARY 23: Vernon Adams Jr. #3 from Oregon playing on the West Team avoids the tackle of Victor Ochi #91 from Stony Brook playing on the East Team during the first half of the East West Shrine Game at Tropicana Field on January 23, 2016 in St. Petersburg, Florida. (Photo by Mike Carlson/Getty Images)
The annual East-West Shrine game took place on Saturday, and the "all-star" game is one of the last chances for college prospects to showcase their talents in-game in front of NFL scouts. While the game has diminished in importance in recent years, it is still a good place for a player to make a statement.
And one player did just that on Saturday: Oregon quarterback Vernon Adams.
The Eastern Washington transfer lit up the game on Saturday, throwing for three touchdowns in the first half. Adams came into the game after Western Kentucky quarterback Brandon Doughty, the starter, threw two interceptions to open the game.
Will this game help Adams with his draft stock? That is left to be seen, but it is a good start. The stock for Adams is pretty low at the moment, but with the quarterback options being sparse for the NFL Draft this year, it wouldn't be too surprising if Adams was able to move highly up the boards with some good showings at the Combine and at pro day.