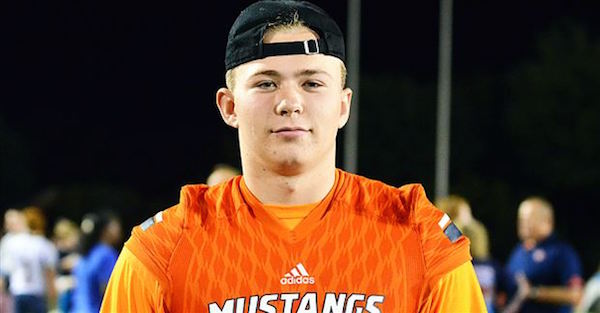 @TomLoy247/Twitter
@TomLoy247/Twitter
Four-star defensive tackle Hunter Spears announced his commitment to Notre Dame on Tuesday via Twitter.
Spears originally intended to announce his college decision in September, but apparently changed his mind after attending Notre Dame's Junior Day in South Bend last month.
The four-star prospect is the Fighting Irish's second-highest rated defensive tackle commitment for the 2019 national recruiting cycle behind Jacob Lacey, who announced his decision last July. During his Junior Day visit, Spears told 247Sports that he thinks Notre Dame would have a "dream d-line class" if it can land remaining targets Mazi Smith, Joseph Anderson and Nana Osafo-Mensah, along with himself and Lacey.
"Honestly, just talking with the guys today, Jacob Lacey, Mazi Smith, Joseph Anderson, Nana Osafo-Mensah, and myself, if Notre Dame can land all of us, that would be the dream d-line class for Notre Dame," Spears told 247Sports. "I could see another pass-rusher or two also."
Spears currently ranks as the No. 14 defensive tackle, No. 30 player from the state of Texas and the No. 242 overall prospect for the 2019 national recruiting cycle, according to the 247Sports Composite.
Notre Dame currently ranks No. 16 overall in the 247Sports Team Composite rankings with four 4-star commitments for its 2019 class.