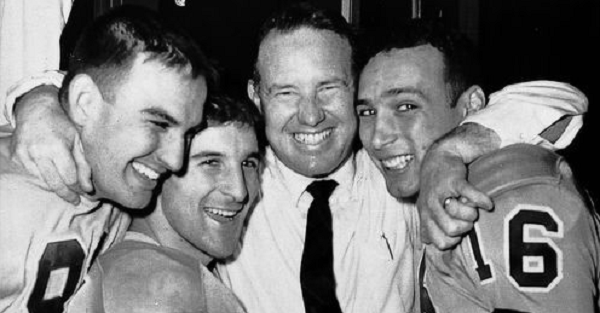 Twitter/@SportRapid_
Wayne Hardin may not be a household name in the world of modern college football but he was once a titan in the coaching profession. On Thursday, word broke that Hardin unfortunately passed away due to complications from a massive stroke. He was 91 years old.
Hardin is best known for his work as the head coach at Navy from 1959 through 1964 and, in response to his passing, Naval Academy Director of Athletics Chet Gladchuk had this to say:
?The Naval Academy is heartbroken over the loss of one of our icons. He was not only a great coach, but a special person that had the respect of everyone who played for him and knew him as a great leader. Coach Hardin set the bar in how we measure excellence at the Naval Academy. He has remained close to the Naval Academy and many of his former players through the course of his retirement. We have shared some special moments with him over the years when we have invited back some of his greatest Navy teams. He will truly be missed, but Wayne Hardin will never ever be forgotten by the Navy family.?
The most famous pupil of Hardin's was Hall of Fame Dallas Cowboys quarterback Roger Staubach, who claimed the Heisman Trophy in 1963 while playing for Hardin. He had this to say about his former coach's passing, per Eye on Annapolis:
?Coach Hardin was such a big part of all of our lives. He did a great job of staying in touch with not only all of his former Navy players, but his Temple players as well and we are all going to miss him. Coach Hardin was the first person to teach me how to read defenses. I was a quarterback that would pull the ball down and run at the first opportunity, but he taught me how to stay in the pocket and what to look for. He was one of the true innovators of the game of football.?
Hardin has not been an active head coach in three decades, but he finished with a record of 118-74-5 on the sideline over 19 seasons. That mark was good enough for induction into the College Football Hall of Fame and, for all intents and purposes, Hardin was a legend in the football world.
Condolences to his family and all who knew him well.