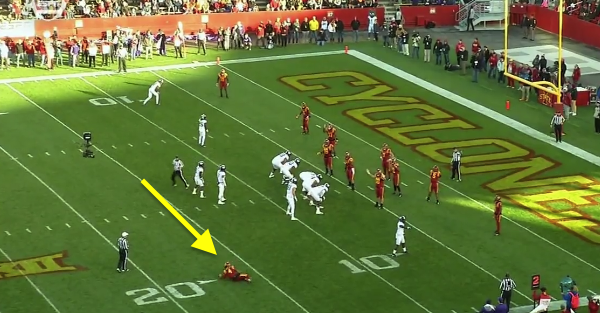 Clippit/@obj
It is not overly strange to see college football players seemingly faking injuries, especially on the defensive side of the ball. While these are often scrutinized unfairly when it turns out that, well, the injury is real, defensive players are often instructed (or simply use their own thought) to hit the turf in order to stop the bleeding against a fast-paced offense.
On Saturday, a new form of this activity emerged during the game between TCU and Iowa State. An Iowa State player seemingly believed he needed to leave the field in order to avoid a participation penalty and he was (very) offsides in the process.
Instead of burning a timeout, he slammed on the breaks and hit the turf.
Somehow, this behavior worked and fooled the officiating crew, which did not assess a penalty for the Cyclones or even give Iowa State a timeout. In the end, Iowa State was able to hold up defensively on that particular drive and, while this play was not the inherent cause, the Cyclones were also able to upend TCU with an upset win in Ames.
It was sneakily brilliant to (apparently) fake an injury here and it ended up working out beautifully for the home team.