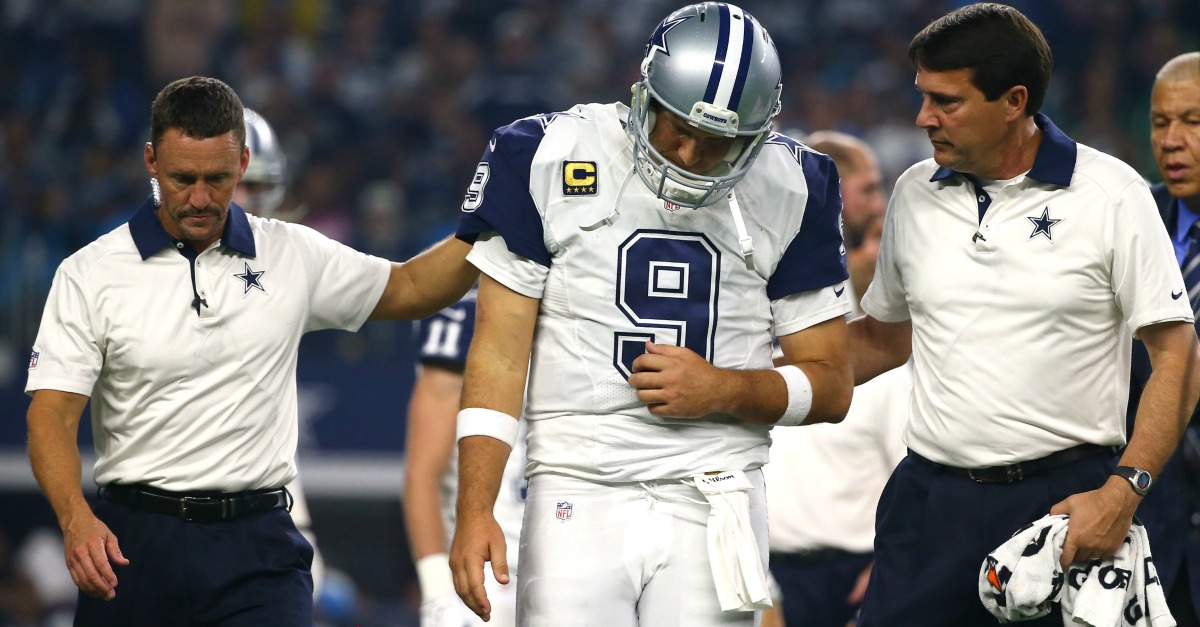 Tom Pennington/Getty Images
ARLINGTON, TX - NOVEMBER 26: Tony Romo #9 of the Dallas Cowboys is lead to the sidelines by team officials after being sacked by the Carolina Panthers in the third quarter at AT&T Stadium on November 26, 2015 in Arlington, Texas. Romo left the field following the play. (Photo by Tom Pennington/Getty Images)
After months of postulating exactly what the Cowboys would do, it looks like we have a decision.
According to multiple NFL.com reports, the Cowboys are expected to release Romo on Thursday on the rumored condition that he doesn't go to an NFC East team.
Pro Football Talk added that Romo's release would be given a June 1 designation, which spreads Romo's cap hit over two seasons.
The leading rumor since the end of the season was that Romo would be released, but there had been some trade talk in recent weeks involving the quarterback. However, Romo's huge cap hit — $24 million — for the 2017 season meant that it was going to be easy to cut the star quarterback instead of trying to work out a trade.
Romo was finally replaced as the Cowboys' starting quarterback in the 2016 season after an injury led to the emergence of rookie Dak Prescott. Romo, a four-time Pro Bowler, will be a hot commodity for several teams looking for a starting quarterback.