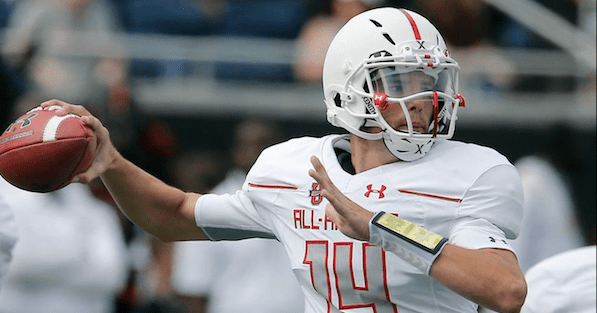 @TheStateOfTheU/Twitter
@thestateoftheu/Twitter
The West Virginia Mountaineers need depth behind new starting quarterback Will Grier, and it looks like they're going to get former Miami Hurricanes' quarterback Jack Allison to back up the former Florida Gator.
It was originally reported earlier in the day that Allison would be headed to a JUCO school to play right away.
Allison was going to head to Mississippi Gulf Coast Community College, ,but it looks like Morgantown will be his new destination instead. He will end up becoming a nice piece to round out an impressive arsenal of quarterbacks for head coach Dana Holgorsen.
Allison will have to sit out a year due to NCAA transfer rules, but should be a nice backup for Grier if he doesn't go pro after this season. If he does, the former Miami QB could become the next Mountaineers starter at the position as early as the 2018 season.
The 6'5″, 200-pound Allison was a four-star quarterback coming out of high school and took a redshirt year this past season.