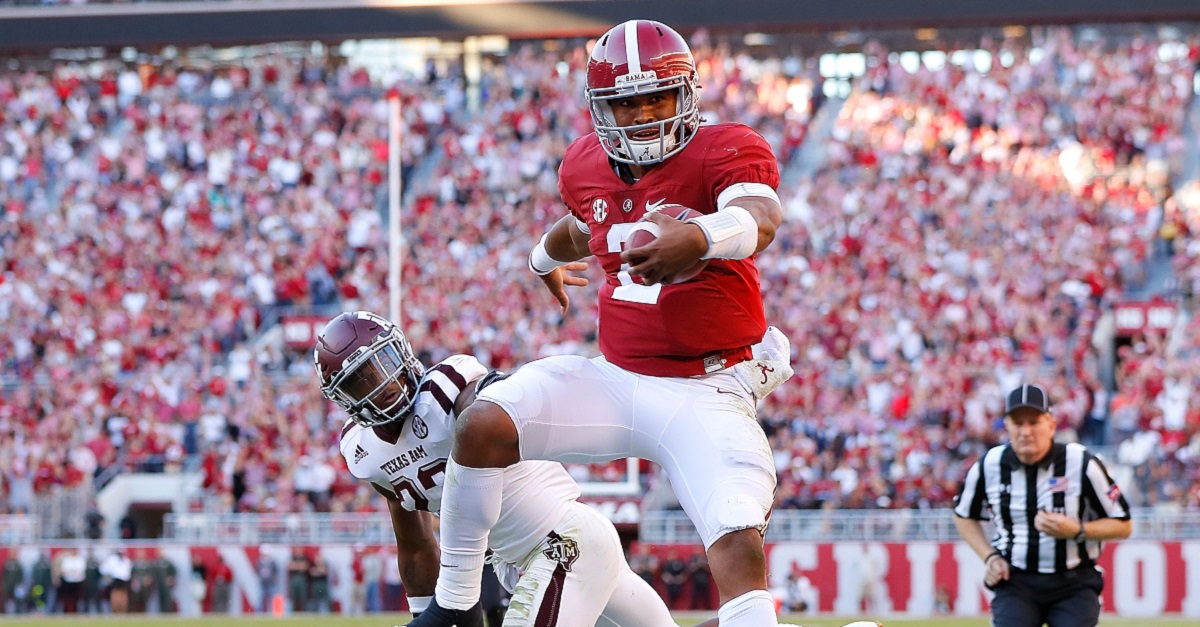 Kevin C. Cox/Getty Images
TUSCALOOSA, AL - OCTOBER 22: Jalen Hurts #2 of the Alabama Crimson Tide is pushed out of bounds during this rush against Armani Watts #23 of the Texas A&M Aggies at Bryant-Denny Stadium on October 22, 2016 in Tuscaloosa, Alabama. (Photo by Kevin C. Cox/Getty Images)
Believe it or not, college football is around the corner. In the blink of an eye, teams will be back on campus and summer or fall camps will begin.
The offseason can be a grind, but the weight room and practice field are where championships are won and lost. The same can be said for individual players. The top players around the nation in 2017 will be out there this summer putting in the work that leads to them dazzling us on Saturdays.
With all that in mind, these five players are expected to have big seasons in 2017. They'll be among the best of the best.
Justin Jackson, Running Back, Northwestern Wildcats
Northwestern running back Justin Jackson is heading into his senior season as easily one of the best running backs in the country. He may not get the hype he deserves, but his three 1,000 yard-plus rushing seasons in a row speak volumes.
Jackson rushed for 1,187 yards and 10 touchdowns as a freshman, 1,418 yards and five touchdowns as a sophomore and he put up 1,524 yards and 15 touchdowns last season for the Wildcats.
Jackson's a stout, tough runner who checks in at 5-foot-11, 193 pounds. He's tough to tackle because of his solid frame, but he's also very explosive. He can get the edge or burst through a hole before the defense closes on him, and that combination has made him very successful for Northwestern over the past three seasons.
Expect more of the same from him in 2017.
Jalen Hurts, Quarterback, Alabama Crimson Tide
Jalen Hurts may be one of the most talented quarterbacks in football, and he's certainly the most poised. As a true freshman, he took Nick Saban's Alabama Crimson Tide and led them all the way to the College Football Playoff national championship — and he did it in style.
Hurts isn't a traditional pocket-passer quarterback, but because of that, he's made Alabama's offense look as explosive as it has been in a long time. Sure, as long as Saban's in Tuscaloosa the Tide will pound the ball, but Hurts added some explosion to the unit, and a bit more of a dynamic dual-threat.
He threw for 2,780 yards and 23 touchdowns as a true freshman, remember. Yes, he did throw nine interceptions, but he more than made up for those with 954 yards and 13 touchdowns on the ground.
He'll have a whole season under his belt in 2017 and a championship-sized chip on his shoulder.
Look out.
Sam Darnold, Quarterback, USC Trojans
Sam Darnold very well could be the next great USC quarterback, so by default, he should end up being one of the top players in college football in 2017.
If you need proof of that, just look at Darnold's performance in this past Rose Bowl. He led the Trojans to an epic win over a very good Penn State team, throwing for 453 yards and five touchdowns in the process.
Darnold was a revelation for the Trojans in 2016. He was actually a backup to begin the season, but that changed against Utah in Week 4. The Trojans ended up losing to the Utes in Darnold's first start, 31-27, but he went on to lead USC to nine wins in a row to end the 2016 season, including the aforementioned Rose Bowl comeback win.
He ended up throwing for 3,086 yards and 31 touchdowns (nine interceptions).
Darnold should enter 2017 on the Heisman watch list.
Christian Wilkins, Defensive Lineman, Clemson
On a list full of offensive superstars, it should be very telling that Wilkins is on this list. And in fact, he's not just one of the top defenders in the nation, but he does play fullback at times as well for Clemson.
Wilkins is a big, fast, strong and dominant defensive lineman, but more so, he's just an overall superstar of a football player.
He checks in at an imposing 6-foot-4, 310 pounds and he can play all over on the defensive line. The scary thing for opposing offenses isn't his size, though. It's his combination of explosion and quickness. He can get in the backfield in a flash, but he's also talented enough to chase a running back to the edge and even to the boundary.
He was a first-team All-American last season for Clemson, notching 56 tackles, 13 tackles for loss and 3.5 sacks. He also notched 20 quarterback pressures, naturally, and broke a Clemson record as a defensive end by breaking up 10 passes.
In his junior season, Wilkins is expected to be one of the most dominant defenders in college football, and he very well could be on his way to the NFL.
James Washington, Wide Receiver, Oklahoma State
James Washington could put up elite numbers in a run-heavy offense, but at Oklahoma State, he has the ability to put up video game numbers.
Washington, who checks in at 6-foot, 205 pounds, is coming off a 2016 season that saw him catch an impressive 71 passes for 1,380 yards and 10 touchdowns. That was on the heels of a sophomore season that saw him put up 1,087 yards and 10 touchdowns.
Another 1,000-plus yard season should be expected from Washington, who's easily one of the top wideouts in college football.
Washington has elite speed as a wideout, and that's the biggest factor in his ability to stand out. He can beat any corner deep on a fly route, but he also has tremendous hands and concentration. Literally, the quarterback only has to throw the ball up and deep, and Washington has the talent to go find it and go get it.
As if that's not enough, his speed comes into play on shorter routes, where he has the ability to make a defender miss and pick up some huge yards after the catch.