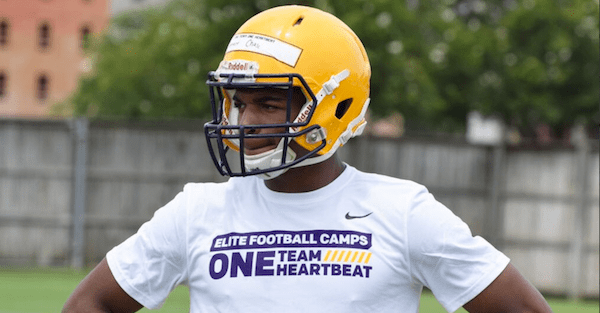 Twitter/JaMarr Chase
Four-star wide receiver Ja'Marr Chase was expected to announce his college decision between TCU and LSU on NFL Network during Nike's The Opening on Monday.
But at the last second, the network changed his time slot to air the commitment of defensive end Greg Emerson, who is a more highly ranked prospect. According to NOLA.com, Chase's commitment was bumped back and the network didn't give him another time to commit on air.
Related: After suffering horrible injury at The Opening, four-star DT Greg Emerson makes his commitment
Chase handled the situation well, and he tweeted that he'd decide on what to do with his family.
Related: Despite year-long pledge, five-star RB James Cook has decommitted
NFL Network has recently devoted more attention to the recruiting process, so the company doesn't have much experience in this realm. But it isn't a good look for the network to completely disregard a recruit's commitment time in favor of another prospect.
To make matters worse, Chase was initially planning to announce his decision on July 2, which is his grandmother's birthday. Chase wanted to honor his grandmother with a commitment on that day, but representatives from NFL Network asked him to change it to July 3 so they could air it live.
Of course, when Emerson wanted to announce his decision, they changed courses for Chase yet again. Chase didn't complain publicly and handled the situation very well. Representatives from NFL Network probably won't admit to being at fault, but they definitely made a huge mistake.
At 6'1, 195 pounds, Chase is the No. 6 player from the state of Louisiana. TCU is the favorite to land him, but LSU is still in the mix.
(h/t Sporting News)