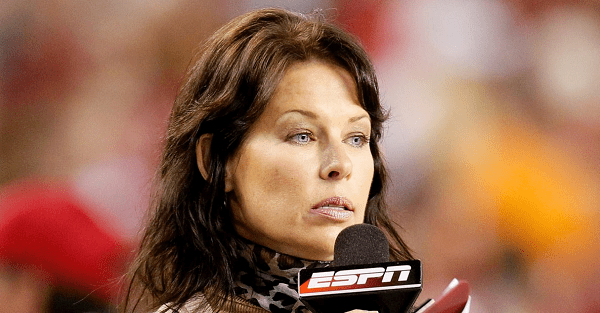 @OSUDieHards/Twitter
@OSUDieHards/Twitter
ESPN is losing a long-tenured reporter and one of its best story tellers in Jeannine Edwards as she will retire from the company after the Cotton Bowl game between Georgia and Oklahoma.
Edwards started at ESPN in 1995 when the network started the show National Best 7, a show about horse racing, on which she was a studio analyst. Eventually, the show was replaced with NTRA 2day at the Races, which ran for five years. During that span, Edwards also began reporting on remote horseracing shows, as well as branching out into sideline work on college football and basketball. SportsCenter began putting her to work as a general assignment reporter in 2000.
She has been seen on the sidelines of college football and college basketball games throughout her career at ESPN as well. She also started the popular "Big Man on Campus" segment on College GameDay back in 2015. She married Oklahoma State defensive coordinator Glenn Spencer recently and cited that she is hoping to spend more time with her family after she retires.
?I?ve made this decision after a lot of thought and careful consideration,? Edwards said in a statement. ?It wasn?t easy, and I still can?t believe I?m saying the word ?retire,? but I felt the time was right.?