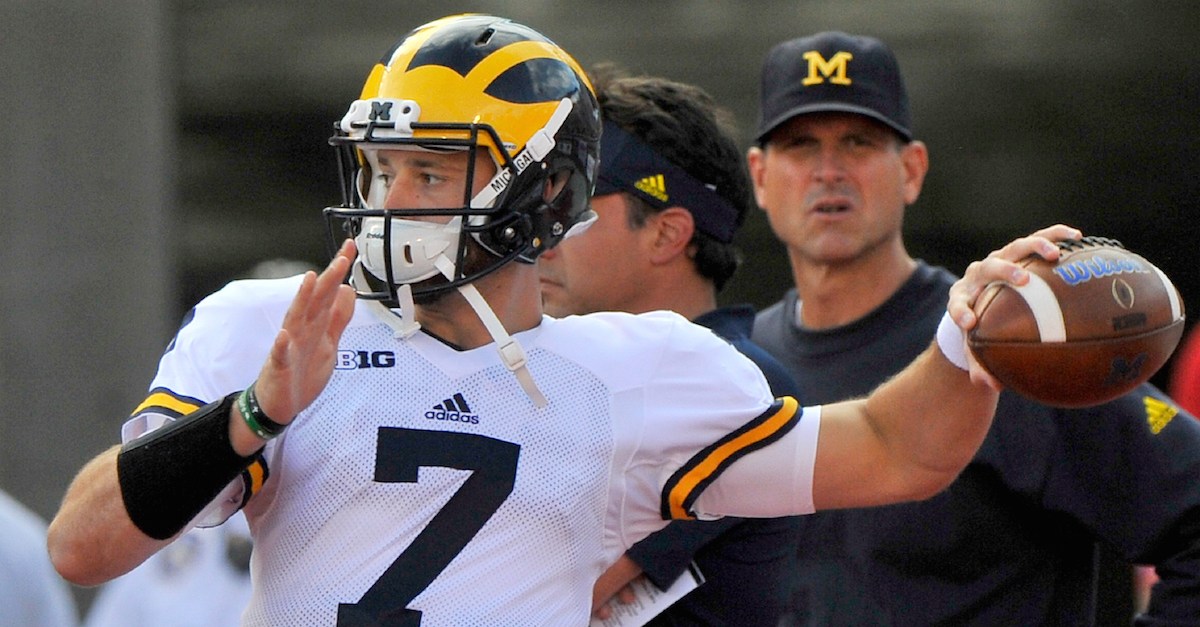 SALT LAKE CITY, UT - SEPTEMBER 3: Quarterback Shane Morris #7 of the Michigan Wolverines practices before their game against the Utah Utes at Rice-Eccles Stadium on September 3, 2015 in Salt Lake City, Utah. (Photo by Gene Sweeney Jr/Getty Images)
Jim Harbaugh's "submarine" mentality was on full display in training camp, as local media hardly received even a glimpse of what the Michigan Wolverines would look like when the 2015 season opened in Utah. It doesn't come as a surprise that Harbaugh would like to be as private as possible in his dealings with the football team, and after a 28-7 win on Saturday, he was asked about "controversy" at the running back position.
Amusingly, Harbaugh indicated that he doesn't like controversy…. except when it comes to the quarterback position that he famously hid from the public during camp. Mark Snyder of the Detroit Free Press brings the details:
"We don't ever talk about any type of running back controversy. Quarterback controversy, I'll address that. Whenever you want to know who the starting quarterback is, I will talk to you about that. But when it comes to any other position, whether it be right guard or running back or safety, there's no discussion about any type of running back controversy or right guard controversy."
Harbaugh later expanded his thoughts on Sunday's "Inside Michigan Football" show, speaking about the depth of the roster and how he enjoys competition:
"The more better players the better, especially on offense. Players at the running back position, tight end position, receiver position, fullback position. We're getting multiple guys playing, and I really believe they're hungry when they come in to make the most of their opportunity. That's a great thing for our football team."

"Who doesn't like that idea of competition?"
This doesn't completely add up because, well, I can't imagine Jim Harbaugh openly discussing any quarterback controversy either. Still, it is possible that Harbaugh sees the quarterback spot differently as a person who occupied that spot in a previous life, and perhaps he will be open to chatting about Jake Rudock's shortcomings in an open forum.
I wouldn't count on it.