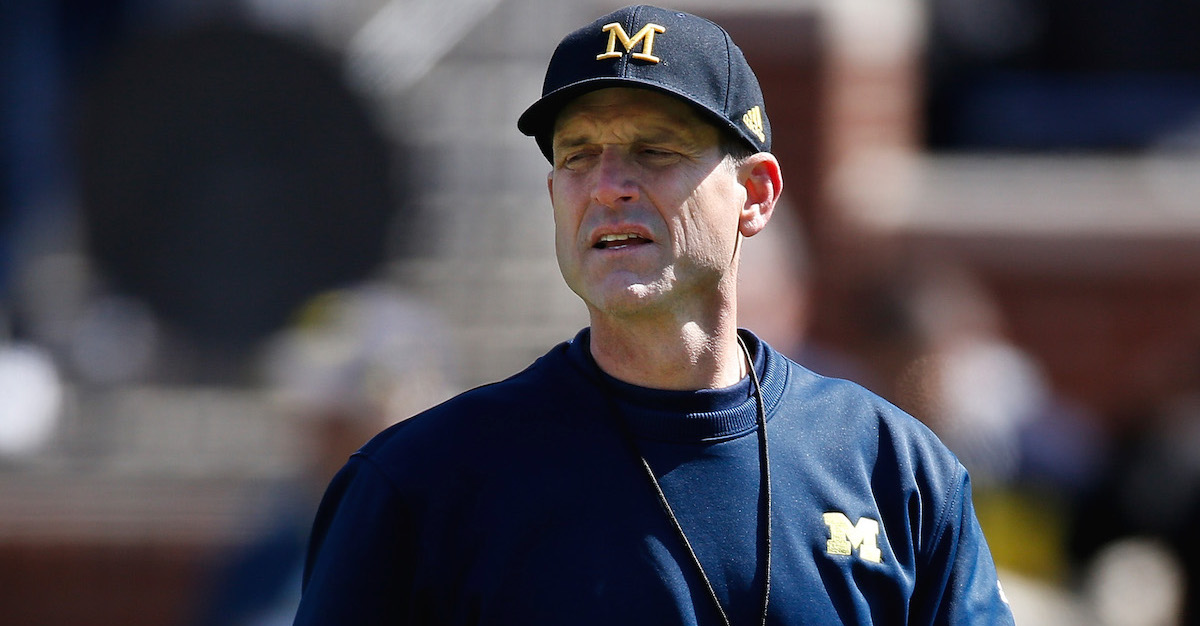 ANN ARBOR, MI - APRIL 04: Head coach Jim Harbaugh of the Michigan Wolverines looks on during the Michigan Football Spring Game on April 4, 2015 at Michigan Stadium in Ann Arbor, Michigan. (Photo by Gregory Shamus/Getty Images)
It appears that Jim Harbaugh is excited for his first game as the head coach at Michigan.
Harbaugh took to the microphone on Sunday as part of the "Inside Michigan Football" show on WXYZ Channel 7 in Detroit, and he shed a bit of light on his mindset leading into Thursday's match-up against the Utah Utes (h/t Angelique Chengelis of The Detroit News).
In typical Harbaugh fashion, he couldn't contain himself when talking about football, saying, "you're beginning to froth at the mouth to get out there and play somebody else." From there, he was asked about his emotions heading into kick-off:
"Excited. There's a heart pounding right now. This is going to be the big stage in this opener at Utah, one of the first games, really, of the college football season, and I think a lot of people will be watching it."

"That's the big table. That's why you signed up to come to Michigan, to be at the big table."
It is no secret that Harbaugh is 100% committed to football at all times, and his business-like approach to training camp left Michigan players believing they would never forget the experience. Still, there is an actual game to be played, and Harbaugh wants to inspire his club to greatness:
"I want everybody to know — the fellas, the coaches and everybody on the staff — it's important we play well for the people that love Michigan and want to see us do well. It's very important we win for them."
Unfortunately for Michigan fans, the opener doesn't represent anything in the way of a breezy experience given the opponent. Utah has a great deal of returning talent, headlined by RB Devontae Booker, and the Utes are fully capable (some would say expected) of beating Michigan in their own backyard. In fact, Harbaugh remembered aloud that Utah "whipped (us) pretty good here in (our) own stadium" during the 2014 season, and that could be a piece of motivation for the Wolverines.
The eyes of the college football world will be on Rice-Eccles Stadium on Thursday evening, and even if his players don't understand the magnitude of the festivities, you can bet that Jim Harbaugh has a grasp.