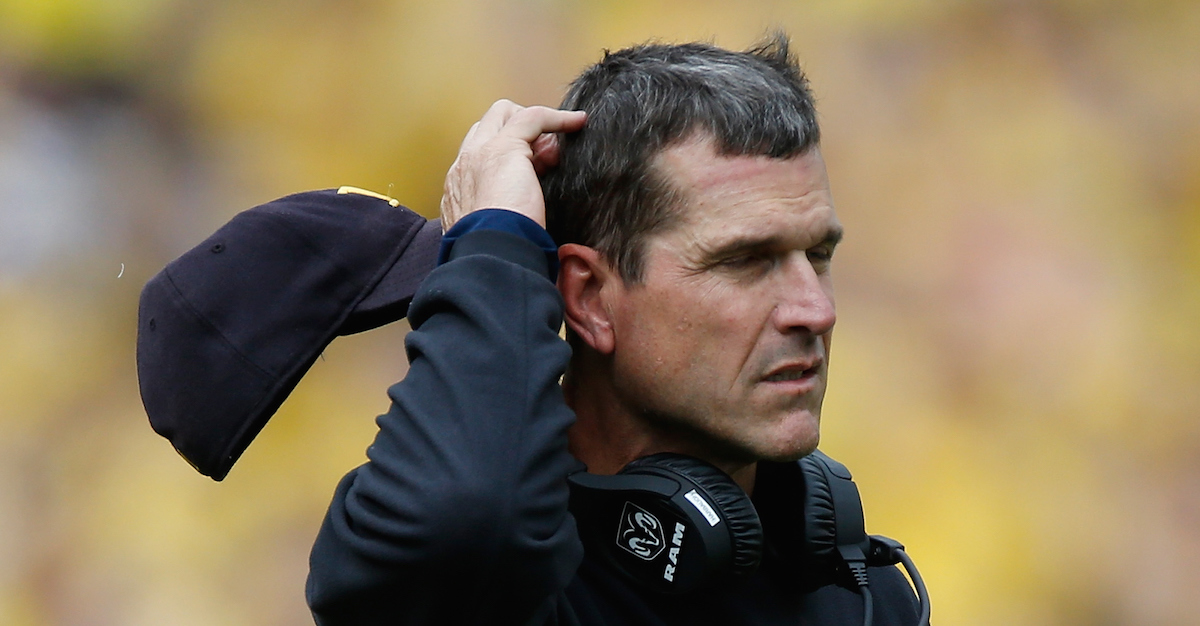 ANN ARBOR, MI - SEPTEMBER 19: Head coach Jim Harbaugh of the Michigan Wolverines looks on during the fourth quarter while playing the UNLV Rebels on September 19, 2015 at Michigan Stadium in Ann Arbor, Michigan. Michigan won the game 28-7. (Photo by Gregory Shamus/Getty Images)
Jim Harbaugh is a football maniac in the greatest possible sense. He is singularly focused on making his team (and his alma mater) the best that it can be on the football field, and from his own mouth, Harbaugh doesn't equate the term "satisfied" with football in any way shape or form.
Anthony Broome of the Detroit Free Press brings word from Harbaugh, who asked after the UNLV game about whether he was satisfied with the offensive timing between Jake Rudock and his group of talented wide receivers:
"'Satisfied' is not a word I'm ever going to use. It's never a word I'm going to associate with football. It's a confusing word. It's like 'comfortable.' I just don't ever associate it with football."

"We're always trying to improve. Never satisfied. Never been satisfied, and there's not too many players that are satisfied when it comes to football."
This is such a Harbaugh answer. Still, this isn't a bad trait for a head coach to possess, especially for the potential that this mindset rubs off on Michigan's players.
Despite the three-touchdown margin, the Wolverines didn't play exceedingly well against UNLV, and with Harbaugh steering the ship, no one will be comfortable this week as BYU approaches. That is a very good thing.