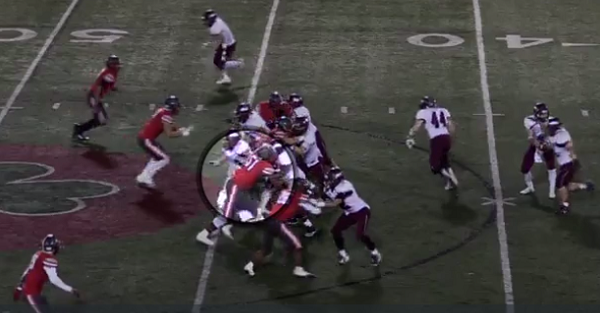 Hudl
In the final hours prior to the commitment of 2017 four-star defensive tackle James Hudson, information was all over the place to the point where only one thing seemed certain. That was the fact that Hudson (who hails from Toledo, Ohio) would likely be choosing between Jim Harbaugh and the Michigan Wolverines and Mark Dantonio and the Michigan State Spartans.
On Monday, Harbaugh and company received the good news.
Hudson, who stands at 6-foot-5 and 280 pounds, arrived at his commitment announcement wearing a Michigan shirt, and that was enough visual evidence to suggest where he was headed. Among the reasons given from Hudson for his commitment was a close, personal relationship with his new position coach, Greg Mattison, and the top overall recruit in the 2016 class, Rashan Gary.
Michigan was said to be recruiting Hudson as a three-technique defensive tackle, though the Wolverines are famous for shifting athletes around after they arrive on campus. Moreover, Harbaugh managing to outduel Dantonio for an out-of-state prospect is big news that could be long-lasting affects on the recruiting rivalry between the two programs.
Finally, Hudson had a message for Michigan fans.
The majority of battles between Harbaugh and Dantonio will take place with regard to in-state recruits, but with more and more traction across the midwest, Harbaugh could be surging ahead in an attempt to reclaim his home state after a dominant run from Dantonio and the Spartans.