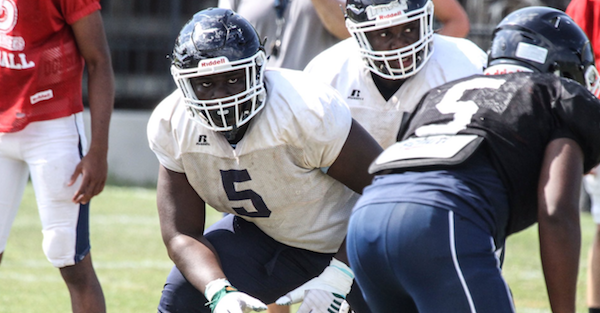 @_jcamp74/Twitter
@_jcamp74/Twitter
Four-star OT John Campbell is closing in on a decision as to where he's going to play football at the next level.
The class of 2018 stud offensive tackle out of Dr. Phillips high school in Orlando, FL. tweeted out his new top-10 list Tuesday evening that included: Alabama, Auburn, Florida, LSU, Miami, Ohio State, Oregon, Tennessee, UCLA, and USC.
Campbell's list is an impressive one, with each of the schools listed his top 10 being recruiting giants. As a Florida native, it certainly looks as though the Gators and Hurricanes have the edge in gaining his commitment.
According to 247sports, their Crystal Ball predictions gives the Hurricanes a 78 percent chance of landing Campbell and the Gators a 22 percent chance.
Still, the Buckeyes, Tigers, Crimson Tide and other big-time schools have offered Campbell and have been pursuing him hard.
Campbell is ranked as the No. 10 offensive tackle, per Rivals.