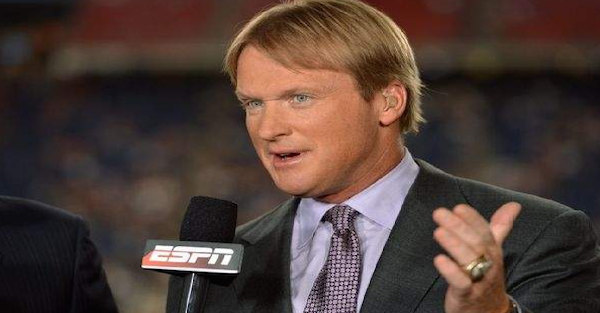 The 2016 NFL Draft is roughly six weeks away, and one of the highest-rated quarterbacks on the board is former North Dakota State signal caller Carson Wentz. Wentz, who threw for over 5,000 yards and 45 touchdowns during his four years with NDSU, is expected to be taken early in the first round — potentially at No. 2 overall to the Cleveland Browns, if they decide Wentz is a better prospect than another highly-touted quarterback option in the draft — Jared Goff out of Cal.
ESPN's Jon Gruden, who is in the process of filming his "Gruden QB Camp" that will air in April, recently said on the special featuring Wentz that the quarterback shows a skillset that he hasn't seen from a quarterback prospect entering the draft in some time.
"I think he's the most NFL-ready quarterback that we've had in the last couple of years," Gruden said via Cleveland.com.
The compliment is a pretty nice one, considering that in last year's draft alone we saw prospects such as Marcus Mariota and Jameis Winston go No. 1 and 2 to the Tampa Bay Buccaneers and Tennessee Titans.
One hilarious party of Gruden's QB special with Wentz was posted online — fantastic video of Gruden hitting Wentz with a toy pool noodle while he ran through passing drills. I'm sure him completing this is what convinced him to say he's the most NFL-ready prospect in years.