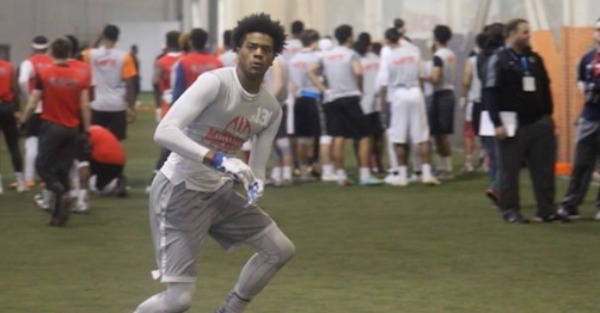 @ScatesJoseph/Twitter
Class of 2018 standout wide receiver Joseph Scates is inching closer to making his decision as to where he's going to commit to play football in college after releasing his top six schools via his personal Twitter account Saturday evening.
Scates final six schools include: Oklahoma, Cincinnati, Rutgers, West Virginia, Louisville, Alabama.
The Michigan State Spartans not making the final six is a shocker, as 247sports gave them a 14 percent chance of landing him. The Alabama Crimson Tide, who have been the slight favorite for Scates, has a 57 percent chance of nabbing the Ohio native.
Scates doesn't list his final six in any particular order, but the Crimson Tide making the cut is a good sign that they're the still the favorites at this point.
The no. 42 WR in his class could always surprise and go to West Virginia or Louisville or Oklahoma, as all of those schools have excelled at developing talent at the wideout position — like Tavon Austin, Dede Westbrook, DaVante Parker and the list goes on.
Scates is listed as the No. 208 player overall in the class of 2018 per 247sports.