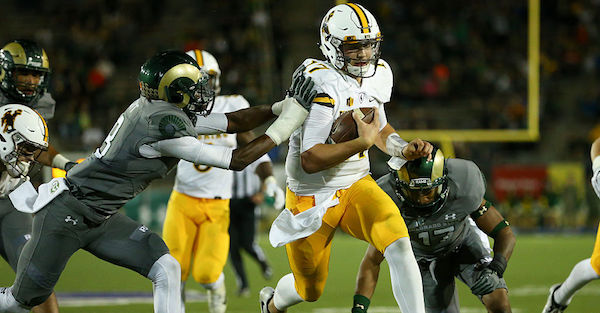 Justin Edmonds/Getty Images
FORT COLLINS, CO - OCTOBER 1: Quarterback Josh Allen #17 of the Wyoming Cowboys splits the defense of defensive back Braylin Scott #18 and defensive back Shun Johnson #17 of the Colorado State Rams on his way to running for a touchdown during the third quarter at Sonny Lubick Field at Hughes Stadium on October 1, 2016 in Fort Collins, Colorado. (Photo by Justin Edmonds/Getty Images)
Coming off a 37-14 victory over Central Michigan in the Potato Bowl on Friday, Wyoming quarterback Josh Allen declared for the 2018 NFL Draft.
Allen, who was the game's MVP, announced his decision during the team's postgame celebration.
"I was hoping to kind of wait off and at least spend a day or two thinking about it," Allen said, via the Idaho Statesman. "But my teammates knew, and they were chanting, 'Do it.' I had to go with what they were saying."
Allen provided the Cowboys with an early lead on Friday, throwing all three of his touchdown passes in the first quarter.
The junior is already projected as the No. 3 draft-eligible quarterback by ESPN's Mel Kiper and Todd McShay, with Kiper ranking him as the No. 11 prospect and McShay at No. 15.
Allen told reporters that he felt as if he "owed" it to head coach Craig Bohl and quarterbacks coach Brent Vigen to play in Friday's game.
"Coming all the way from one scholarship offer, you know, Coach Bohl and Coach Vigen, they believed in me when I came out of junior college," Allen said. "I felt like I owed them at least one more game here. Football's a part of me. If I'm not playing, then I'm not me. So I've gotta be on the field at all the times, because I love this team, I love this game and I love the Cowboys."
Allen finished his final season with 1,812 yards, 16 touchdowns and six interceptions after missing his last two games due to a shoulder injury against Air Force on Nov. 11.
As a sophomore, he threw for 3,203 yards with 28 touchdowns and 15 interceptions.