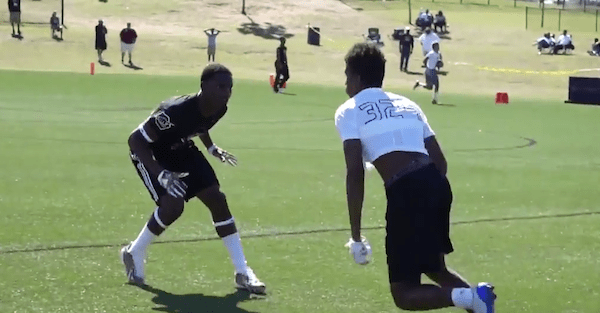 Soflo Sauce/YouTube
Soflo Sauce/YouTube
Big-time WR Joshua Moore revealed where he plans to play college football after finishing up his prep years: the Nebraska Cornhuskers.
Moore revealed that he'd be joining Big Red via his personal Twitter account Sunday afternoon, with a moving, incredible video that ended with the big reveal.
Joshua Moore is a four-star wideout from Texas, and, at 6'0″ and 168 lbs he figures to be quite the weapon on the outside for Mike Riley and the Cornhuskers in the coming years.
Moore, who received 53 offers, chose Nebraska over Florida State, Texas, Texas A&M and Oklahoma. Each of whom were given a reasonable percent chance at landing him via 247sports' Crystal Ball predictions.
The freak athlete has been utilized all over the field at the prep level — safety, returning kicks and wide receiver — so it should be interesting to see how Nebraska integrates him into their offense and if the Big 10 contender utilizes his unique, flashy skill-set.