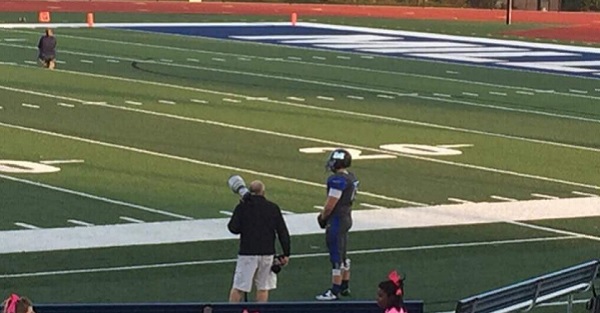 Twitter/WGN News
Millikin University's football team is no stranger to a Colin Kaepernick-style national anthem protest. The D-III school had several players kneel during a September game earlier this year, and it looks like the team took the protest to a new level this weekend.
According to ESPN, the entire team decided to stay in the locker room for the national anthem on Saturday, save for one player: sophomore Connor Brewer was the only Millikin player on the sideline for the pre-game anthem ceremony.
The Herald & Review reported that only sophomore Connor Brewer stood for the anthem. Millikin spokesman Bryan Marshall said Brewer "did what he felt like he needed to do." Brewer has declined comment.
RELATED: Colin Kaepernick has picked up support from a very interesting source
Brewer standing for the anthem is a stark contrast to what move people have seen out of the protests for the past several weeks. Many of the protests have seen either one or a handful of players take a knee or raise their fists in protest. In this one, we see the other side of the spectrum with just one player left standing.
Millikin went on to win their game 43-35.