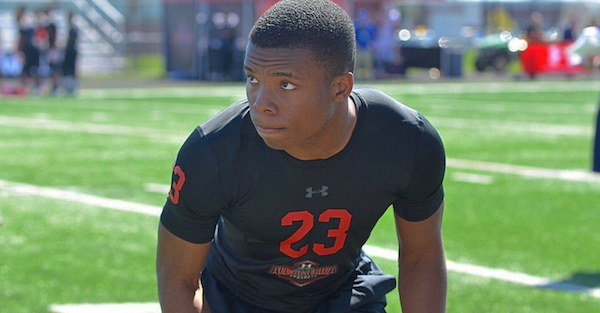 @KalonGervin/Twitter
@KalonGervin/Twitter
Four-star class of 2018 defensive back Kalon Gervin revealed the final five schools that he's still considering in his recruitment.
The schools that made the cut via Gervin's personal Twitter account: Oregon, Oklahoma, Michigan State, Louisville and Virginia Tech.
Although Gervin listed his top five schools, there doesn't appear to be a favorite for him as of this writing. 247sports' Crystal Ball predictions has Oklahoma with a 19 percent chance, same with Virginia Tech, and Oregon with a 12 percent chance. Notre Dame was in the mix at 19 percent, too, but they didn't make the cut.
Gervin, a Michigan native, kept the Spartans in his top 5, so it should be interesting to see if Michigan State is able to keep him in the state.
Each of the five schools Gervin is still considering, have continued to recruit Gervin pretty hard, so he really could end up at any of the final five.
Gervin is the No. 22 CB in the class of 2018, per 247sports.