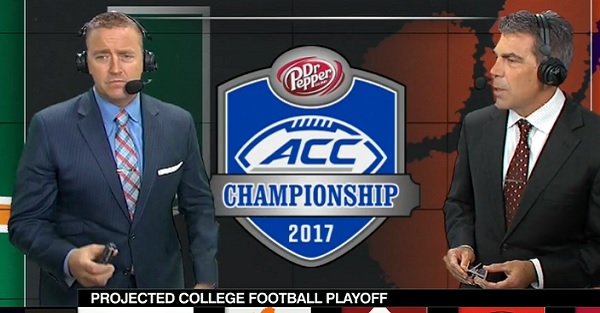 Clippit/Screenshot
This will go over well…
In the aftermath of Saturday's conference title games, the College Football Playoff committee was left with the difficult decision of (most likely) picking between Alabama and Ohio State for the final spot in the top four. Some are going with Ohio State because they have a conference title under their belt, while others are going with Alabama for possessing the better record with fewer harmful looking losses.
In his picks for the Playoff, ESPN's Kirk Herbstreit has Ohio State in the Playoff, but it was a statement he made later on Sportscenter with Chris Fowler that will likely catch the attention of a lot of fans. When Herbstreit posed the question of who was the "better team" between Alabama and Ohio State, both he and Fowler professed that they believe Alabama would be the winner in that scenario.
Herbstreit expanded on that a bit later in the show, admitting that even as an "Ohio State guy", he still thought that Alabama had the edge.
Herbstreit did still pick Ohio State to make the Playoff with his actual picks, citing the conference championship as a factor that he believes the committee will weight most between the two teams.
The Playoff committee will have an official decision by Sunday afternoon.