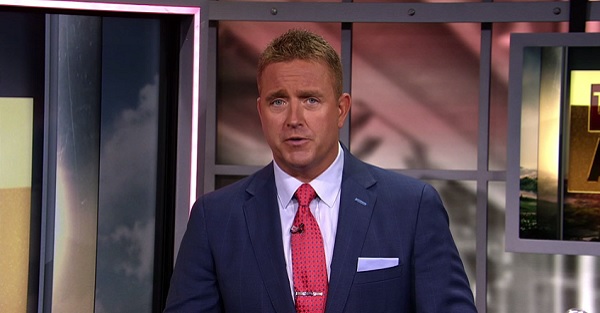 ESPN/Screenshot
ESPN/Screenshot
ESPN's Kirk Herbstreit shares his updated top-4 rankings following each week of the college football season.
Herbstreit tweeted his post-Week 2 rankings early Monday morning:
Herbstreit added two additional teams coming off big wins on Saturday. Oklahoma not only defeated Ohio State, 31-16, but also jumped into its No. 2 overall spot on the broadcaster's top-4.
USC, who defeated Stanford, 42-24, replaced Penn State at No. 4 overall. It's worth noting that the Nittany Lions also won their game handily against Pittsburgh, but it seems the Trojans' victory over Stanford was more convincing to Herbie.
Alabama and Clemson each stayed in the No. 1 and No. 3 spots, respectively. The Tide rolled to a 41-10 win over Fresno State in Week 2. Clemson survived a tough defensive effort by Auburn to win 14-6 on Saturday.
College football's top-4 ranked teams will play in the College Football Playoff semifinals, which will be played in the Rose Bowl in Pasadena, California and the Mercedes-Benz Superdome in New Orleans, Louisiana on Jan. 1.