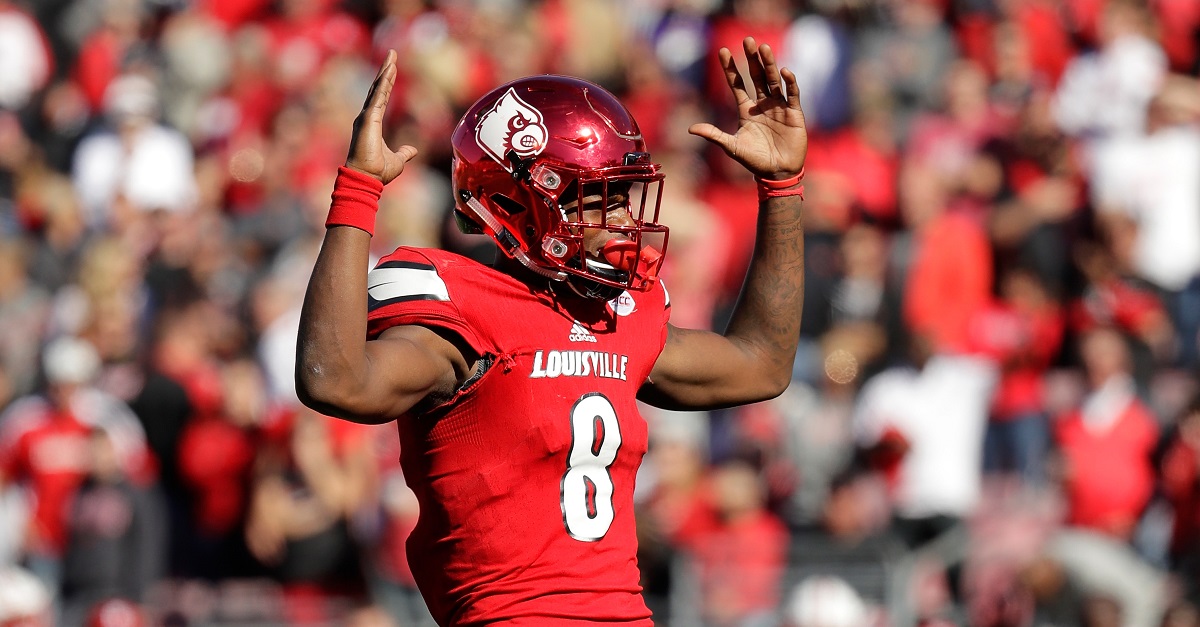 Andy Lyons/Getty Images
LOUISVILLE, KY - OCTOBER 22: Lamar Jackson #8 of the Louisville Cardinals signals a touchdown during the game against the North Carolina State Wolfpack at Papa John's Cardinal Stadium on October 22, 2016 in Louisville, Kentucky. (Photo by Andy Lyons/Getty Images)
Lamar Jackson was the runaway winner of the 2016 Heisman Trophy and the star quarterback from Louisville certainly deserved the honor. In short, he was transcendent from a statistical perspective, both through the air and on the ground, and Jackson's electrifying playing style captivated on-lookers throughout the season.
In 2017, he is already off to another blazing start but that hasn't stopped some members of the NFL community from expressing reserved sentiment about his chances to play the position at the next level. This time, former Super Bowl champion executive Bill Polian visited with ESPN LA on radio and he indicated that Jackson "might be a receiver" in the NFL.
"I don't think that Lamar, the Louisville kid's in that discussion, in fact there's a question that he may be, he might be a receiver."

[loud yelling from the hosts, including "are you kidding me?"]

"No, I'm not kidding you. And that has to do with girth and skill set as well."
Later, Polian did indicate that he wasn't necessarily closing the door on Jackson as a quarterback but this is certainly an aggressive take. Jackson's completion percentage at the college level (56.2 percent a season ago) leaves something to be desired but he certainly has NFL arm talent and is a potentially transformative prospect.
Frankly, this type of analysis borders on lazy in that it assumes that an uber-athletic quarterback with (relative) size concerns must move to a skill position in order to succeed. It would be a shock if Jackson wasn't drafted as a quarterback in the very near future and it would likely take a flame-out to produce a position change.