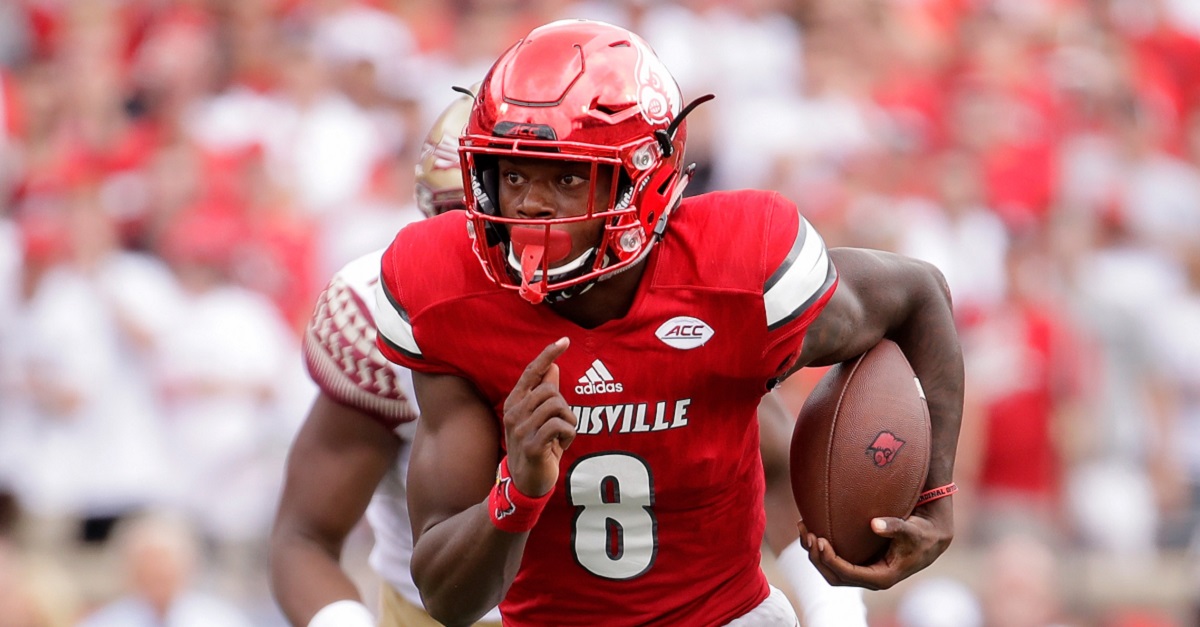 Andy Lyons/Getty Images
LOUISVILLE, KY - SEPTEMBER 17: Lamar Jackson #8 of the Louisville Cardinals runs for a touchdown against the Florida State Seminoles at Papa John's Cardinal Stadium on September 17, 2016 in Louisville, Kentucky. (Photo by Andy Lyons/Getty Images)
Lamar Jackson is already the favorite to win the Heisman trophy after three weeks of ball games being played this season. Jackson opened with 100/1 odds to win the Heisman, but that number has dropped all the way down to 6/5 via Vegas Insider. And it should be that low considering he's thrown eight touchdowns against only two interceptions and he's run another touchdowns into the end zone.
RELATED: Mike Vick says Lamar Jackson is way better than Mike Vick
Despite playing quarterback, Jackson has the second-most rushing yards in the nation with 464, which is second only to San Diego State's Donnel Pumphrey and his 599. Jackson also has 24 fewer rushing attempts though and actually averages more yards per attempt — 9.47 to Pumphrey's 8.21.
RELATED: Lamar Jackson shredded this FSU defender's ankles
Jackson has been compared to Mike Vick since both are freakishly athletic and have a penchant for making plays with their legs as well as their arms. Vick even said that Jackson is already better than he was at that stage, but he really doesn't even know. Vick said Jackson is five times better than him, but he could end up being even more impressive than that.
Jackson already has more than twice as many 100-yard rushing and passing games than Vick did at Virginia Tech.
Only seven more of those performances and he could actually be five times better than Vick. Now we all want it to happen and that would definitely cement his status as the Heisman favorite this year, you know if he wasn't that already. Can we just give him the trophy or do we really have to wait?
Before this week you could have said that he was putting up those ridiculous numbers against lower level competition in Charlotte and Syracuse, but then he put up these numbers against Florida State who was supposed to have a good defense:
13/20 passing for 216 yards
one touchdown
one interception
17 carries for 146 yards
four rushing touchdowns
8.4 average yards per carry
I think those numbers speak for themselves.