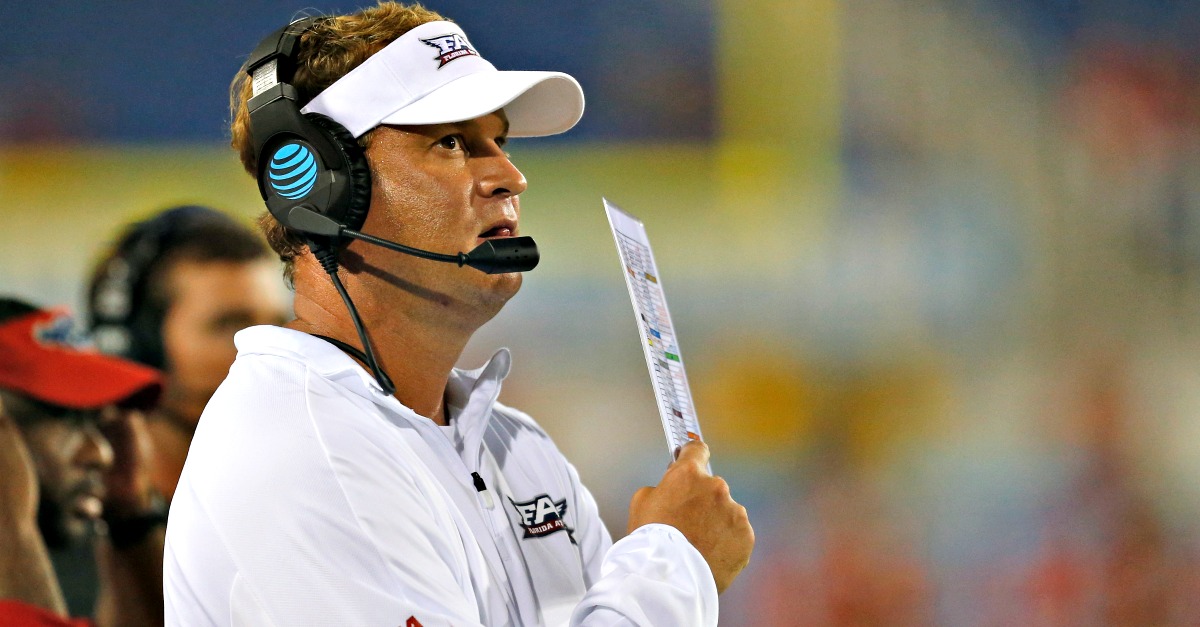 Joel Auerbach/Getty Images
BOCA RATON, FL - SEPTEMBER 1: Head coach Lane Kiffin of the Florida Atlantic Owls looks on during 4th quarter action against the Navy Midshipmen on September 1, 2017 at FAU Stadium in Boca Raton, Florida. (Photo by Joel Auerbach/Getty Images) *** Local Caption *** Lane Kiffin
Lane Kiffin has been a familiar, if hilarious, name in conjunction with the opening at Tennessee and he has taken some pleasure as a result. Kiffin, after all, entertains the college football world with his candor regularly and the opening at his former institution has been a perfect opportunity for that honesty to emerge.
Still, Kiffin gave actual insight into his future at his current job as the head coach at FAU and it came during an interview with The First Team with Taylor Zarzour and Greg McElroy on ESPNU on SiriusXM radio. (h/t CBS Sports)
"You are not going to get Coach Speak here. When I say I'm happy here, that's what every coach says. But I really am. It's a very unique situation: A) we have a great team, B) a ton of them come back, almost the whole team comes back. And we love living here. There's a family element that's awesome. My dad's here. My brother's a coordinator. Mom's here. My brother's four kids. We've got a president that wants football to win, came from Clemson and envisions this place being like Clemson some day."
Kiffin's assertion that he'll be at FAU beyond 2017 probably won't appease everyone but he does seem genuine in his enjoyment at the moment. It has to be noted that Kiffin has never been one to stay in a single place for a long time but, in the same breath, FAU has been impressive since he arrived and it might take a specifically appealing job to lure him away.
Regardless, there will be plenty of attention on where Lane Kiffin will be for 2018 and beyond, even if he just told us.