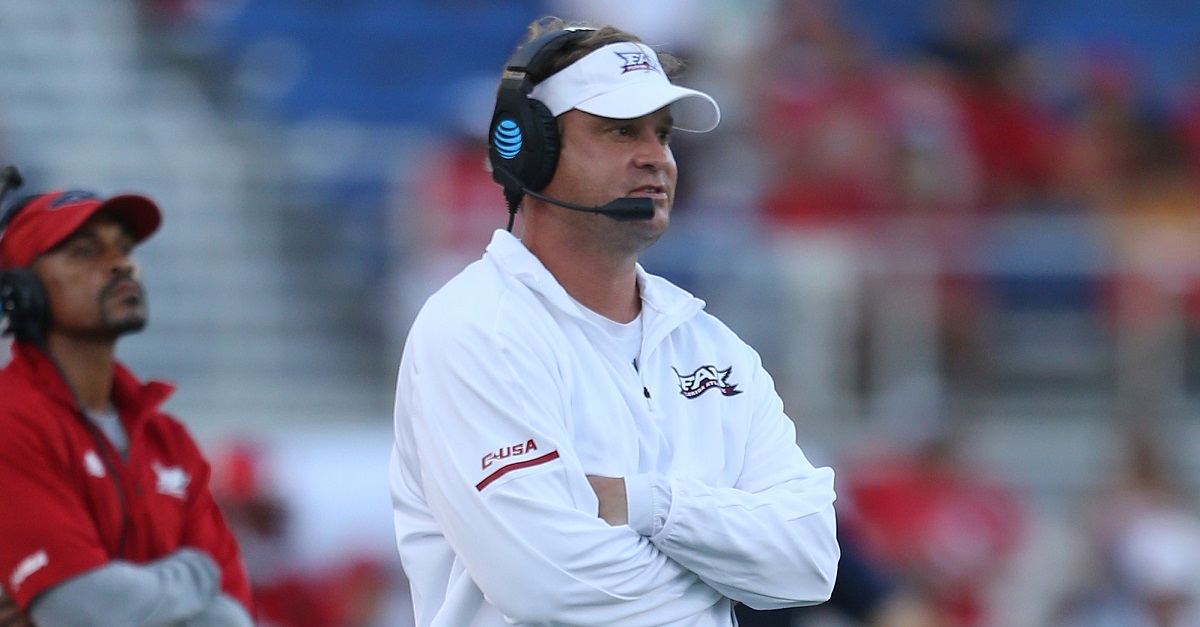 Joel Auerbach/Getty Images
BOCA RATON, FL - OCTOBER 21: Head coach Lane Kiffin of the Florida Atlantic Owls looks on during second half action against the North Texas Mean Green on October 21, 2017 at FAU Stadium in Boca Raton, Florida. FAU defeated North Texas 69-31. (Photo by Joel Auerbach/Getty Images)
Before taking taking the field Tuesday night in the Boca Raton Bowl, Lane Kiffin has reportedly agreed to a new 10-year deal after earning FAU's first 10-win season in school history.
The team went from 3-9 to 10-3 and became the champions of Conference USA when they defeated North Texas in the championship game. The team went undefeated in conference play and that has prompted the school to approach Kiffin about a new contract.
FAU President John Kelly told ESPN West Palm that the school was indeed working on the new contract, as he said, "I've told Lane that when I met with him, I thought we could be a top-25 program and we need a coach who can do that. He's on the verge of doing that. We're obviously looking toward keeping Lane long term."
Kiffin signed a five-year, $4.5 million contract last December and with a win over Akron in the Boca Raton Bowl, the possibility of cracking the top-25 is certainly there. There are currently no details on the contract, but you can rest assured that the former NFL, Tennessee and USC head coach is going to make a little more money. He is somehow already the second-winningest coach in program history behind Howard Schnellenberger's 58 wins.
FAU has not played in a bowl game since 2008 and has only won nine games over the last three seasons. There was speculation that Kiffin might head elsewhere after he led the team to nine straight wins to end the season and proved he can handle being a head coach again.