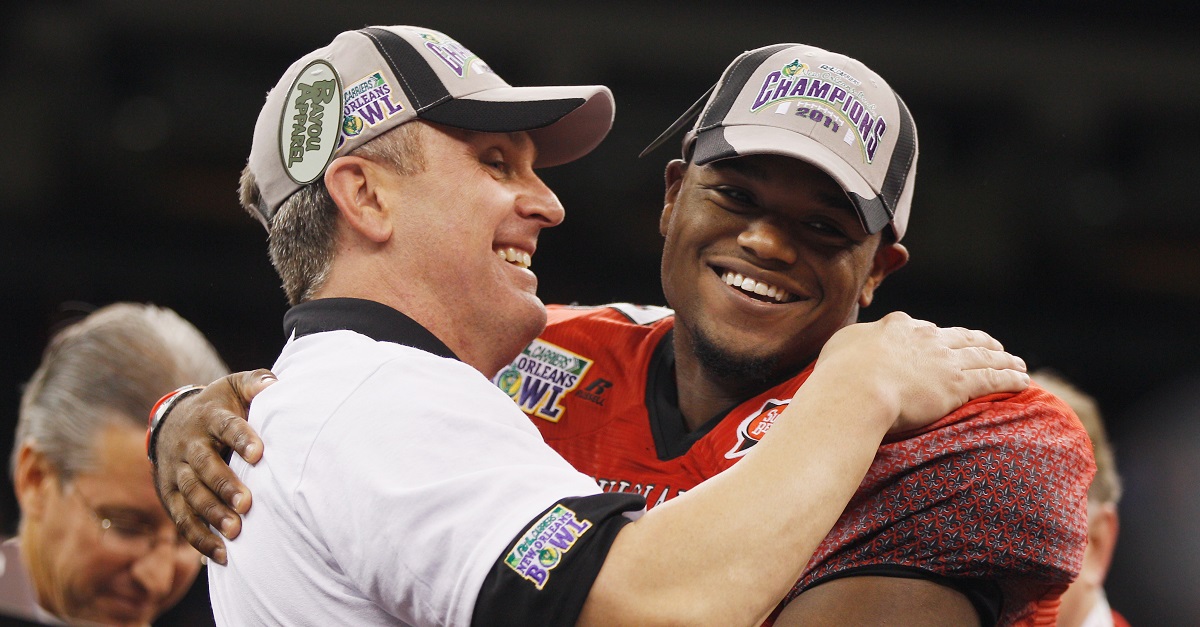 Chris Graythen/Getty images
NEW ORLEANS, LA - DECEMBER 17: Blaine Gautier and head coach Mark Hudspeth of the Louisiana-Lafayette Ragin Cajuns celebrate after defeating the San Diego State Aztecs 32-30 during the R&L Carriers New Orleans Bowl at Mercedes-Benz Superdome on December 17, 2011 in New Orleans, Louisiana. (Photo by Chris Graythen/Getty Images)
Louisiana-Lafayette has officially parted way with head coach Mark Hudspeth who led the team the last seven years.
Ragin' Cajun athletic director Bryan Maggard spoke to the media about the firing and said there were a number of factors as to why he was let go and not just the 63-14 loss at the end of the season to Appalachian State.
Hudspeth went 28-38 in his seven years there and had his fair share of issues as the first four years of his tenure featured 22 vacated wins. That was from 2011 to 2014 and the vacated wins include two bowl games as well as their 2013 Sun Belt co-championship.
After those first four years, Hudspeth and the team failed to win more than six games and lost another New Orleans Bowl — literally the only bowl game they have been to under him. While at North Alabama, Hudspeth had a 66-21 record and got to the Division-II Playoff Semifinal three out of seven years there and got to the quarterfinal in another two.