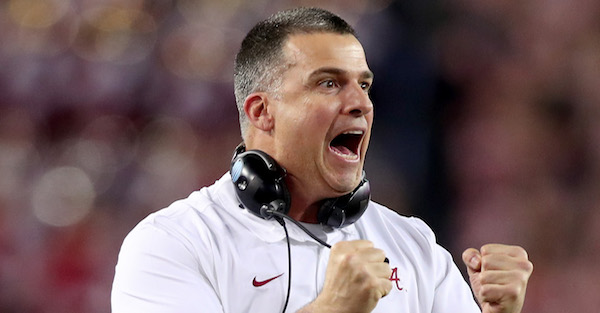 Tom Pennington/Getty Images
TAMPA, FL - JANUARY 09: Assistant Head Coach/Tackles and Tight Ends/Recruiting Coordinator Mario Cristobal of the Alabama Crimson Tide cheers in the first half while taking on the Clemson Tigers in the 2017 College Football Playoff National Championship Game at Raymond James Stadium on January 9, 2017 in Tampa, Florida. (Photo by Tom Pennington/Getty Images)
Oregon announced the hiring of coach Mario Cristobal as its next head coach, and Cristobal will take over for Willie Taggart. Cristobal last served as a head coach at Florida International, and he's been an assistant at Alabama and Oregon in recent years.
For any Oregon fans wondering how to feel about the hire, Cristobal was received support from one of his former college teammates: The Rock.
Cristobal and Dwayne "The Rock" Johnson were teammates at Miami, and they were a part of the Hurricanes' 1991 national championship team. The Rock called Cristobal a "phenomenal choice" for the Ducks.
Related: Oregon reportedly has named its next head coach after Willie Taggart?s departure
Cristobal was 27-47 during his tenure at FIU, but he was also responsible for turning the program around.
Taggart went 7-5 in his first and only season at Oregon before he left to take over the job at Florida State. Cristobal was picked to serve as the interim head coach for the bowl game against Boise State, and the school decided to give him the job on a full-time basis.
If Cristobal needs a defensive line coach for his staff, maybe he could give The Rock a call. Though, he might be too busy promoting one of seemingly endless new movies.