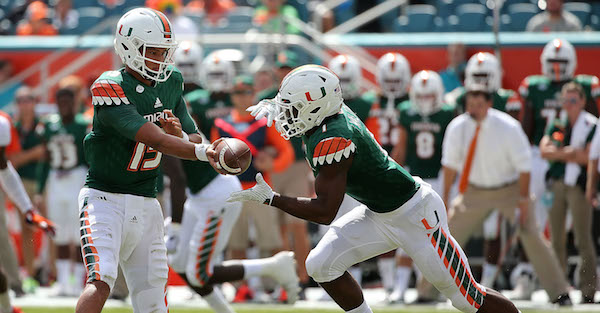 MIAMI GARDENS, FL - OCTOBER 24: Brad Kaaya #15 hands off to Mark Walton #1 of the Miami Hurricanes during a game at Sun Life Stadium on October 24, 2015 in Miami Gardens, Florida. (Photo by Mike Ehrmann/Getty Images)
According to Slater Scoops, Miami Hurricanes running back Mark Walton has had all charges, including DUI and driving on a suspended license, and allegations of impersonating an officer and groping a female, dismissed.
Walton's attorneys, Joey McCall and Ricky Patel, detailed the situation that began with Walton reportedly helping a female on the side of the road days before his arrest:
"Mark's accuser was coming home from a party at approximately 4 a.m. and she had been drinking, "McCall said. "Mark noticed her swerving all over the road and wanted to make sure she was okay. We learned that she almost hit him and he was concerned that essentially she was a danger to everyone on the road."
According the Miami Herald, Walton was under investigation for impersonating an officer, which he allegedly used to "flirt with at least one woman."
There were text messages exchanged between his accuser and himself, according to Walton's attorney in which the Miami back was lured to her house days later, on April 23:
"We learned with our own investigation that at least two City of Miami officers, through the alleged victim, lured Mark over to a house, were hidden when he got there, and then rushed him with guns drawn," McCall said. "One officer came from inside the house and the other officer came from around the side of the house. 

"Mark was literally terrified and as a result cooperated with whatever he was made to do," McCall said. "All he could think about was trying to stay alive." 
And that's when the DUI charge was reportedly handed out, according to his lawyers.
"We learned from other officers within the City of Miami police department that the arresting officers, among others, were essentially conducting a warrantless sting operation that they were not assigned to do and weren't asked to participate in," McCall said. "Based on additional information we received, the alleged victim and at least one of the arresting officers have a personal relationship of some kind and knew each other prior to April 23."

"Most likely when Mark got to the house and they realized there was nothing to support an impersonating an officer charge, they had to arrest him for something," McCall claimed. 
According to the report, days before the charges were dropped, the assistant state attorney attempted to hand out a plea deal for a lesser charge, which was denied.
Walton's attorneys will reportedly pursue civil remedies for wrongful arrest and malicious prosecution.
Walton has been reinstated to the Hurricanes football team. He's expected to fight for the starting gig. According to the report, the City of Miami police department has not responded.