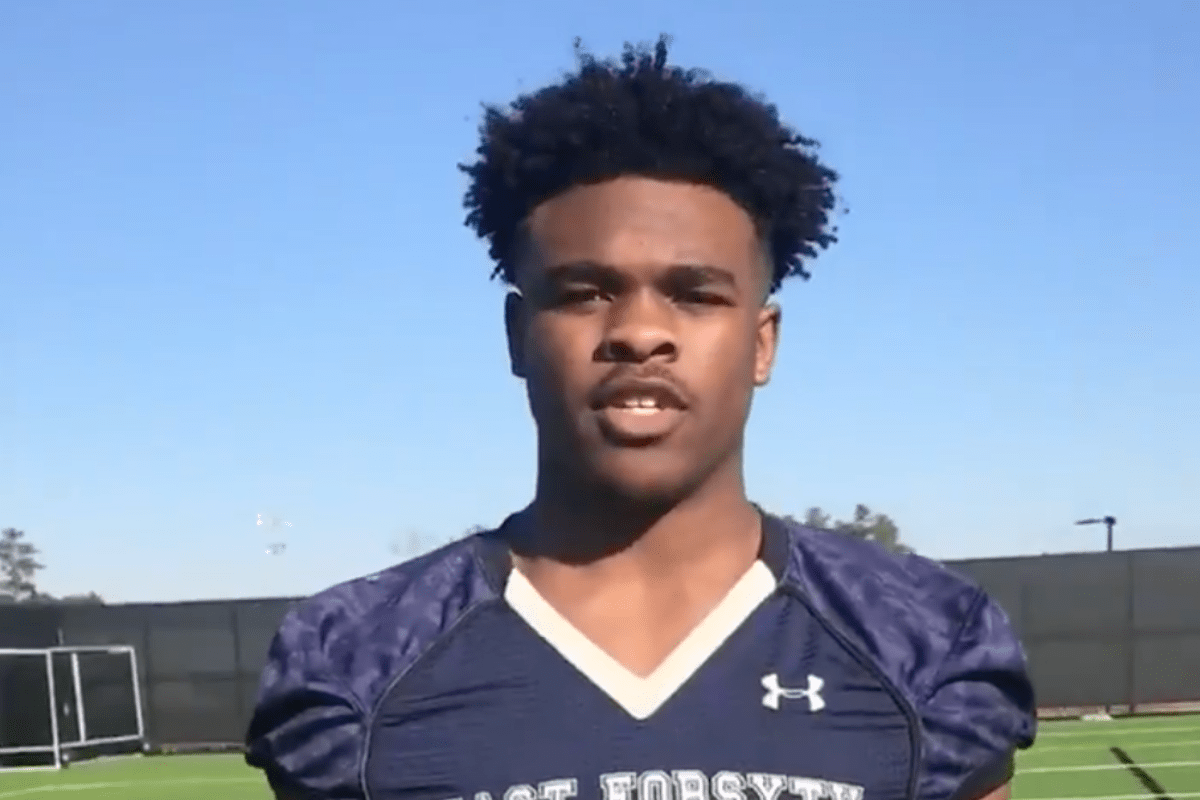 Screenshot from Twitter
Micah Crowell is an impressively talented recruit.
Scouts first noticed the four-star wide receiver at East Forsyth High School in Kernersville, North Carolina, and the hype surrounding his game hasn't died down one bit.
Despite an offer list that featured several College Football Playoff mainstays, Crowell opted to remain close to home in Raleigh.
In June 2020, the wideout officially committed to the NC State Wolfpack.
Micah Crowell Commits to NC State
RELATED: 4-Star Lineman, Son of NFL Veteran, Signs With Dad's Alma Mater
More than 30 teams reached out to Micah Crowell throughout the recruiting process, including Alabama, Auburn, Duke, East Carolina, Florida, Florida State, Georgia, Georgia Tech, Louisville, LSU, Michigan, Michigan State, Nebraska, North Carolina, Notre Dame, Ohio State, Oklahoma, Penn State, Syracuse, Tennessee, Virginia, Virginia Tech, Wake Forest, Wisconsin, and West Virginia.
NC State's football recruiting class isn't world-beating, but the Wolfpack signed some strong talent in 2021 to rival UNC, including quarterback Aaron McLaughlin.
Micah Crowell Highlights
Micah Crowell looks the part of an ACC-caliber wide receiver, but we have to proceed with some caution. He suffered a torn ACL during his junior year, so there is always a chance that he redshirts his first season to return to full health.
During his sophomore season, Crowell got going with 511 receiving yards and seven touchdowns on just 25 catches. He is a consistent deep-ball threat, so he'll be a threat to defenses once he hits his stride.
There is plenty of NFL experience in the Crowell family tree, too.
Micah's father, Germane Crowell, and his uncle, linebacker Angelo Crowell, starred with Virginia before playing in the pros. Another one of Micah's uncles, Juwon, played for East Carolina.
NC State football has a long way to go before even thinking about a CFP berth, but they consistently put together a competitive team.
Micah Crowell is a top-level prospect, and he will get every opportunity to succeed with the Wolfpack.