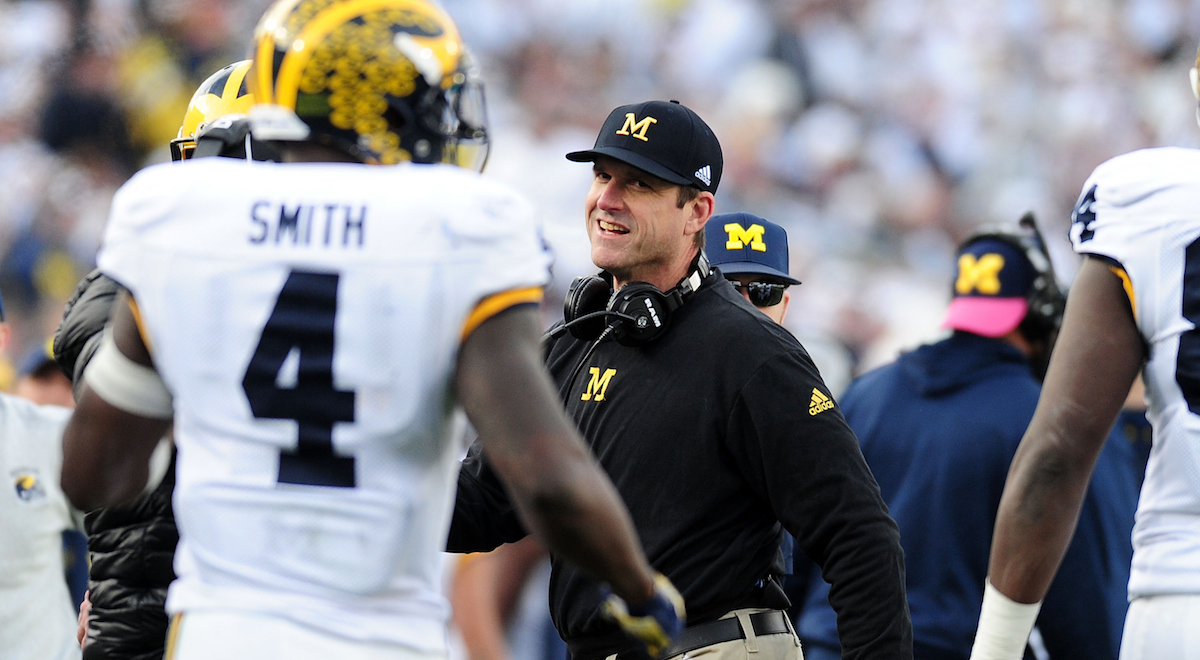 Evan Habeeb/Getty Images
STATE COLLEGE, PA - NOVEMBER 21: Jim Harbaugh head coach of the Michigan Wolverines reacts after De'Veon Smith #4 scores a touchdown in the fourth quarter against the Penn State Nittany Lions at Beaver Stadium on November 21, 2015 in State College, Pennsylvania. (Photo by Evan Habeeb/Getty Images)
Jim Harbaugh is leaving nothing to chance in hiring the most expensive staff in the history of the Big Ten and he isn't done just yet. Just hours after word broke that Pep Hamilton would be making $1 million annually to be the team's passing coordinator, the Michigan Wolverines will reportedly add Indiana offensive line coach Greg Frey to command the running game.
Sam Webb of Scout reports that Frey's addition will send Jay Harbaugh over to coach running backs, taking over the vacated position of Tyrone Wheatley. During his time at Indiana, Frey helped to groom multiple All-Americans across the offensive line, highlighted by Jason Spriggs, and he is also a former Michigan assistant under Rich Rodriguez.
Tim Drevno is the first in command when it comes to the offense (aside from Harbaugh) but Michigan's staff is now even more comically loaded than before. The loss of Wheatley will certainly be felt on the recruiting trail, where he is one of the best, but Harbaugh is taking full advantage of Michigan's seemingly endless football budget and he is doing so in a wise way.
The Wolverines will grab more headlines for a spring trip to Rome than they will for beefing up the coaching staff, but both matter a great deal when it comes to the end result on the field.