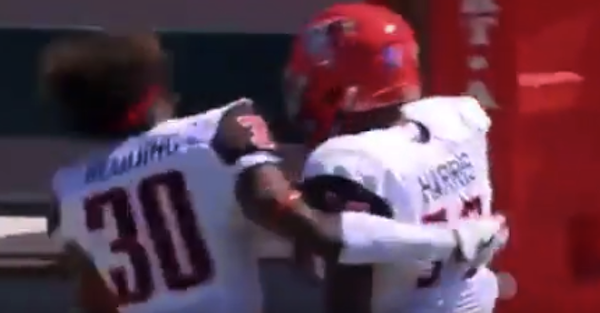 Twitter/@officialcso
The Michigan State Spartans entered the 2017 season opener as a significant favorite against the Bowling Green Falcons in East Lansing. In the early going, it looked as if Mark Dantonio's team would live up to that billing, as the Spartans marched down the field on the opening drive and appeared ready to put a touchdown on the board.
Then, running back L.J. Scott put the ball on the turf on the Bowling Green 1-yard line and the Falcons recovered to quell the momentum and excite their sideline. Then, the celebration of that (very) important play might have gotten out of hand.
Defender Brandon Harris charged to the sideline to celebrate with his team and, after a few interactions, he encountered redshirt freshman defensive back Ty Redding. The only problem, though, was that Redding wasn't wearing a helmet and Harris either didn't realize it or, by the time he did, it was too late.
Engaging in a head-butt when one player has a helmet on and the other does not… is not a good recipe. Redding certainly may have suffered a concussion or another head injury depending on the impact of the blow and, even if he avoided damage, this was not the wisest course of action for the underdogs from Bowling Green.