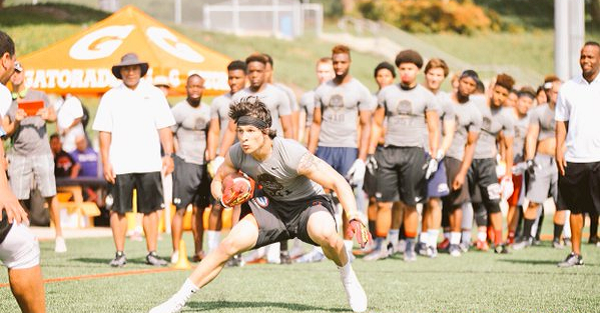 Twitter/@BiaggioAli1234
Biaggio Ali-Walsh will be making his own legacy it seems. His grandfather, the late great Muhammad Ali, was a huge Louisville fan and lived there for a lot of his life. Biaggio will be headed out west though as the No. 11 all-purpose back in the country will be playing for the California Golden Bears.
RELATED: Muhammad Ali's grandson turning heads on the football field
Ali-Walsh will play his senior year of high school at Nevada powerhouse Bishop Gorman before moving on to Cal. The 5'10", 186-pound back also had offers from Louisville, UNLV and Nevada to name a few. And if the whole football thing doesn't work out he can still model for Wilhelmina Models, which is one of the world's biggest talent management agencies.
[h/t TMZ]